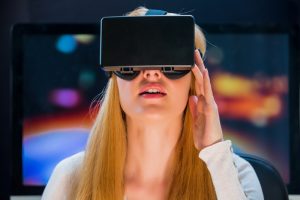 The fashion industry has been flirting with the tech industry for several years but a true connection between the two hasn't quite materialized. While Apple tried to court the fashion world during the rollout of the Apple Watch a couple of years ago, it didn't seem to quite stick. Samsung, however, elevated its stature in the fashion world this year by utilizing its virtual reality platform in unique ways at New York Fashion Week.
The First All-Digital Fashion Presentation
Samsung teamed up with the fashion production firm FTL Moda to create what they termed the first all-digital fashion production. They shot footage in Milan earlier this month in digital and 360-digital. Samsung also teamed up with a startup VR software company called Obsess VR to present this experience to the attendees of New York Fashion Week. Neha Singh, the founder and CEO of Obsess VR, believes VR and the fashion industry are a great fit for each other. "With VR," he said, "we can create experiences that let anyone feel like they are sitting in the front row of a fashion show, or walk around and shop in a store anywhere in the world from your own couch."
A New Way to Experience Fashion Week
Instead of sitting in the folding chairs in the cramped section on the sides of the catwalk, the attendees of Fashion Week put on Samsung's Gear VR headset and experienced an up-close and personal 360-degree view of the latest collections. This event also showcased corresponding details about the collections and different articles, along with a museum-style backstage, digital mannequins, and mirror display technology that showcased the actual collections. Samsung's vice president of marketing for visual display, Ron Gazzola, was especially excited about the potential for the mirror display technology. "The mirror display is really going to be at the center of changing the retail experience for both the retailer and the customer," he said. Those who were lucky enough to have been invited to the invite-only event this week surely had a glimpse at the future relationship between fashion and technology.
VIRTUAL REALITY EXPERIENCES FROM TALKINGTREE CREATIVE
Ready to share your story? TalkingTree Creative is your premier guide to brand strategy, event planning, video production, and live entertainment. With help from our production experts, you can elevate your message and convert your audience to fans by transforming your next event into a fully engaging, memorable experience. We are located in the Baltimore-Washington Metro area, but are ready to accommodate the needs of businesses and organizations anywhere in the U.S. Get in touch with us today at 240-252-1200 or 202-684-2225, and let's start a conversation. Find out what we're up to on Facebook, Twitter, Google+, and Pinterest.
Source: 1