Trade Show Video
Trade shows offer an unbeatable opportunity to connect with a new audience and broaden the reach of your brand. Unfortunately, the opportunity is also short-lived, which means you need to be sure that you're making the most out of your event. How can you talk to every guest who visits your booth at a trade show? The answer is, you can't. But a professional video makes an excellent impression on possible clients and will allow you to reach even the guests that you're not able to talk to.
TalkingTree Creative follows a process that provides equal time and attention to the creative and technical side of trade show video production. From scripting to camera shots to final edits, our trade show video production company works to produce a video piece that relates your company's story and mission to the audience and creates real, authentic engagement. We are based in the Baltimore-Washington corridor, but we produce trade show video for clients throughout the Mid-Atlantic region and nationwide.
What are the benefits of trade show video?
There are many ways that you can incorporate video to make your trade show booth more effective and memorable. A video presentation can help explain your product so that you don't have to personally speak with every vendor in attendance. Live video elements can create engaging visual interest and draw people to your booth. Because the possibilities are endless, it's important to work with a trade show video production company that will understand your message and create video that furthers your goals. At TalkingTree Creative, we do just that.
Our production capabilities for trade show videos include:
Concept development and preproduction strategy
Scriptwriting storyboarding
Production planning
Crew and casting
On location and in-studio
Motion graphics, title design and animation
Trust the professionals for your video production
We use our Strategic Creative approach to guide our video choices. We begin by gaining a deep understanding of your business, your brand, and your voice. Then, we gather information on your target audience so we can ensure that our messaging will be on point and connect with the right demographics. We create messaging that supports your goals, elevates your brand, and–most importantly–connects with your audience. Once we have built a strong framework, we will then we handle all aspects of your video production, from storyboarding and scripting all the way through managing execution. This way, you can be sure that you will get the most out of your trade show and your booth will be one that visitors can't forget. For all of your trade conference production needs, trust TalkingTree Creative.
To learn more about our video production capabilities, please visit our video production website:
http://talkingtreeproductions.com/
See what we can really do when we work together.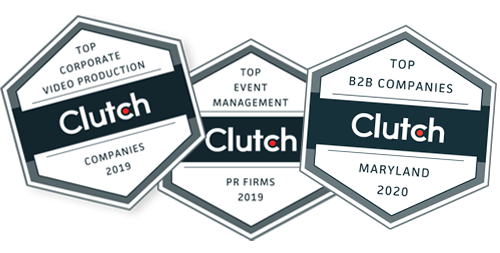 Top Creative Event and Video Production Companies in Maryland and Washington, DC