Fundraising Video
Asking someone to donate their time or hard-earned money to your cause is not an easy feat. You have to find ways to connect with your audience and get them excited about your cause and message before they will be willing to give. An effective video fundraising message contains useful information coupled with persuasive reasons that illustrate the good deeds that will be achieved from donations.
TalkingTree Creative delivers high-quality fundraising videos that help your audience experience the challenges and obstacles faced by your clients or constituents. In our role as a video fundraising production company, we rely on professional storytelling, scripting, and high production values to deliver top-notch videos to our clients that help them secure the donations they need to thrive. Our fundraising video production company is based in the Baltimore-Washington corridor, but we work on fundraising events throughout the Mid-Atlantic region and across the country.
Fundraising video can help you raise funds more efficiently
At your last fundraising event, how much time did you spend speaking with and cultivating individual donors? This time-intensive process limits the number of donors you can make contact with and, therefore, the amount of money you'll be able to secure in the course of the night. In order to speak to your entire audience, fundraising videos are an effective tool that will free up your time to enjoy your event and focus your attention on building the relationships that your organization relies on to thrive.
Our fundraising video production capabilities include:
Concept development and preproduction strategy
Scriptwriting and storyboarding
Location scouting
Production planning
Crew and casting
Online distribution
In order to become inspired to donate, your audience wants to understand your organization's story. They want to know why they should offer their time and money to you rather than the countless other organizations that are in need of funds. This is why strategic messaging is so key to effective fundraising efforts.
At TalkingTree Creative, we believe that viewers should experience a message, not just see and hear it. We want your audience to connect with your cause and truly believe in your messaging, so we will work hard to understand the goals of your event, your organization's voice and area of work, and we will craft video content that creates an authentic emotional engagement between viewers and your message. Our extensive experience in creating fundraising video means that you can trust our ability to tell your story in a way that is effective and professional. Enjoy your next fundraiser by allowing the professionals of TalkingTree to transform your message into effective video content.
To learn more about our video production capabilities, please visit our video production website:
http://talkingtreeproductions.com/
See what we can really do when we work together.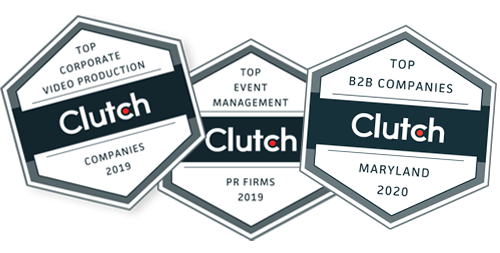 Top Creative Event and Video Production Companies in Maryland and Washington, DC