Video for Social Media Content
From Instagram Reels to YouTube, the contemporary consumer watches more than an hour of video content every day while scrolling through social media. Studies also show that social media posts containing video content receive more engagement across all platforms. 
How successful is video content on social media really?
If you want your brand to stand out, you need to make the most of social media content. And video is the way to do that. Plus, it's important to consider the primary audience on social media  – Millennials and Gen Z. 
Additionally, the social media generations like brands with personality, and they care about your ethics. Social media video is your chance to highlight what's special about your brand. 
Do you partake in fun charity events? Do you donate to animal shelters or other noble causes with your profits? Does your company have an exciting culture to showcase? 
These are the kinds of topics that are perfect for social media video content. In sum, they showcase what makes you unique – why your company is worth buying from or working for over the competition.
In this video for Hughes, we demonstrated our client's impact on the people of Puerto Rico after Hurricane Maria devastated the community. Hughes' satellite internet was the only source of communication available in the wake of the hurricane. We spoke to locals about how Hughes helped in their time of need. As a result, we delivered a hard-hitting short-form documentary about the company's impact.
Why is video important to social media content?
There are many reasons to incorporate video into your social media content strategy. Sky-high engagement is just one benefit of video. This medium also drives more purchases, supports strong memory recall and is preferred among social media users. 
That's why platforms like TikTok are so popular. And it's why Facebook and Instagram are pivoting to video-first just to keep up.
But why is video content so popular on social media?
Video content is engaging and entertaining. 

Video is extremely versatile – you can create high-production value videos or simple selfie cam clips.

The rise of TikTok, Instagram Reels and YouTube have made it more accessible to aspiring creators.
One of the top reasons video is successful on social media is that it's personal. Content creators and brands can interact with their followers in real time using Instagram Live or Twitch. Meanwhile, Facebook and Instagram Stories show brief, temporary glimpses of what people and brands are doing. 
Ultimately, video is much better than text or images alone at recreating what it feels like to interact with people in real life. In our tech-driven world, video allows us to feel more connected even when we're far away from each other.
One client came to us for support creating an entertaining and informative video on the topic of family law. The finished product is dubbed Marriage on the Rocks. The video demonstrates how even tough topics can be made engaging and funny. Through stories of their favorite celebrity prenup stories, the hosts guarantee that viewers will remember them. Plus, they share valuable insights about the benefits of prenuptial agreements. These insights are helpful whether you're a celebrity or not.
What kinds of video should be included in a social media content strategy?
A truly great social media content strategy has variety. Your feed should help followers understand your products, your team and the personality of your brand. This keeps followers engaged, so you can continue to grow your following. Here are some popular social media video formats you've likely seen.
Live video: These are a great way to interact with followers in real time. Answer their questions, get feedback and build a strong relationship with your audience.


Behind-the-scenes: Give followers a glimpse of what it takes to deliver the products or services they love. This not only gives you the opportunity to demonstrate your expertise, but that you also enjoy what you do.


Testimonials: Demonstrate how customers use your products or services to make their lives easier. You can also leverage influencer marketing through testimonials, which showcases your brand in front of a new audience.


Educational: Illustrate your expertise to build trust with your audience. Answer questions people often have about your industry, and offer advice on common challenges.


How-to:

These are a perfect complement to educational videos. Build credibility for your brand through first sharing your knowledge. Then, show how your company provides easy solutions.
If you're not sure what kind of video would work best for your company, take a look at others in your industry. Then, consider what types of social media content they post and how it performs. Your competitors are a great place to get inspiration for your own videos. Through them, you can see what your target audience really wants.
What makes a video successful on social media?
Social media has made video content more accessible to aspiring creators. However, there are still a few key elements that your videos need to include to resonate with your audience. Although more people than ever are creating video content with a smartphone and a few extra tools, the characteristics of great video content remain the same.
Here are the key components of great social media videos: 
They are visually appealing

The sound is clear and easy to understand. 

Music complements the tone, and it never distracts the audience from your message.

The video length aligns with the format and social media platform.

They are relevant to your audience and your business goals.
Whether you're looking to stand out on the endless scroll of TikTok or reach the billions of users who watch videos on YouTube every day, our video production experts can help. Using our strategic creative process, we align your message with the goals, platform and audience for your video. The result is compelling social media content that gets through to people on an emotional level.
How to get started with video for social media content
Chances are, you already have the ingredients of a great social media video. You just need support bringing your vision to life. At TalkingTree Creative, we know how to bring cinema-grade videos to your social media feed. From writing the script to promoting the final product, our video production experts have your needs covered. 
Whether you have a clear vision in mind or need support finding your niche in the saturated world of social media, we can help. Contact us today!
See what we can really do when we work together.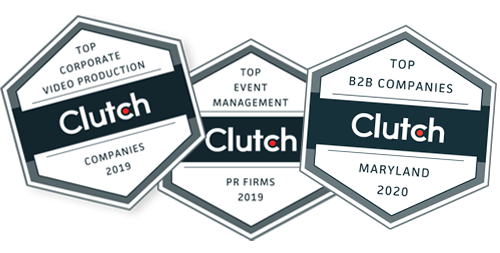 Top Creative Event and Video Production Companies in Maryland and Washington, DC