Virtual Events, Real Experiences
You've probably attended more virtual events in the years following 2020 than ever before. And we suspect many fell short of your expectations. During the pandemic, event organizers were left scrambling as they rapidly scaled back physical events to fit the virtual space. There were plenty of technical difficulties, awkward breakout rooms and few opportunities for personal connection. But virtual and hybrid events don't have to be this way.
With advancements in 3D imaging and virtual reality, the virtual event experience can be much more than a web-hosted PowerPoint presentation. At TalkingTree Creative, we use top-of-line technology to give your guests an experience that looks and feels just like a physical event. Virtual attendees can still enjoy the networking, demos and interactivity that were once unique to live events.
These same advancements make it possible for us to create an interactive virtual component for physical events. Despite the return of physical events, Surveys show that 84% of people want to have a choice between the virtual and in person experience. We ensure your audience has a branded, multi-sensory, immersive experience regardless of whether they attend online or in person.
See how we use a dynamic event strategy to deliver unforgettable experiences on screen, on stage and online.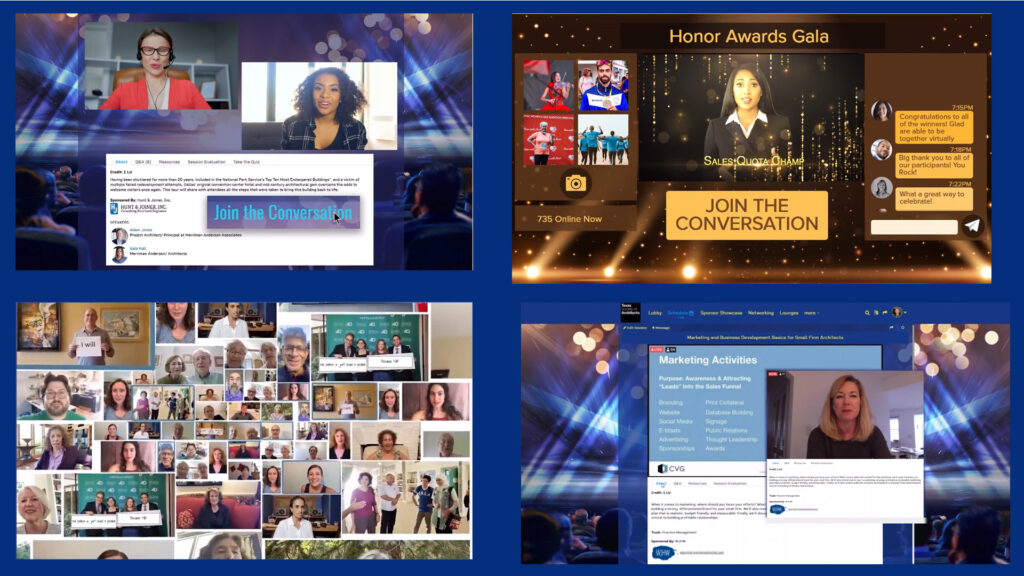 Virtual events vs. hybrid events
What is a virtual event? Virtual events take place entirely online. They can be as basic as a pre-recorded meeting (otherwise known as a webcast), or they can be a fully immersive VR experience. We have extensive experience producing simple webinars, virtual trade shows and everything in between.
What is a hybrid event? Hybrid events on the other hand blend the live and virtual worlds. Much like virtual events, there is a huge range of technical possibilities. Some may be a livestream of the live event while others adapt the live experience for the virtual audience. That might include virtual networking, Q&As or other interactive components.
Essential components of virtual events
Whether you're hosting a virtual event or offering a hybrid option, the end result should be a seamless experience for attendees. Including the following components will help you bring that vision to life.
High levels of engagement: Just like an in-person event, a key objective of virtual events is to engage the audience. We create opportunities for attendees to interact with content and fellow guests to ensure they're highly engaged.
Interactive virtual components: Live polling, virtual hand-raising, remote Q&A sessions, audience chat, and custom calls-to-action make our virtual event platform an engaging experience for your guests.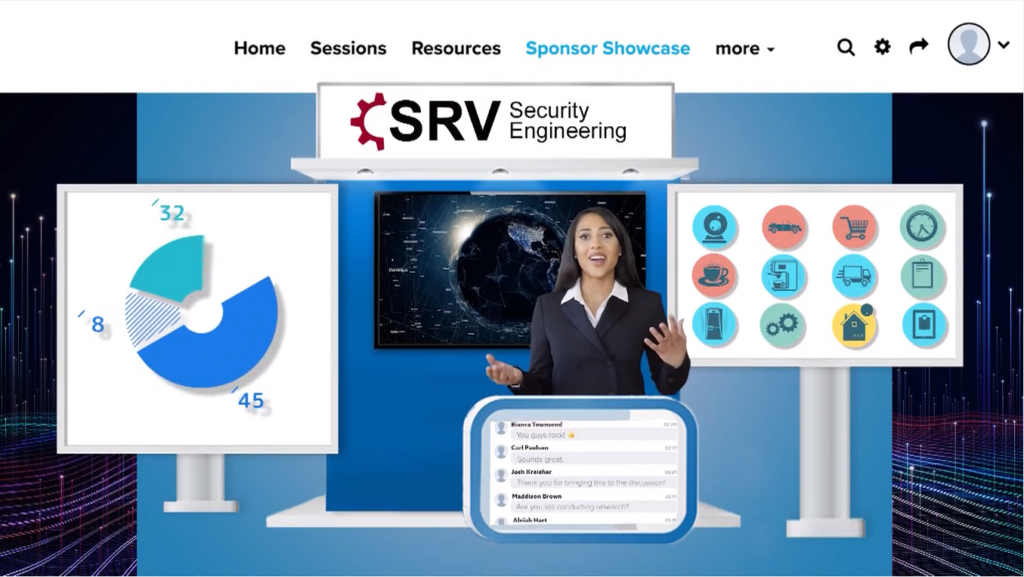 Virtual networking: We use event apps to track audience interests. This information can then be used to suggest virtual meet-ups or chats based on shared roles or experience. Imagine notifications that alert attendees of other local attendees with similar interests. These can even be used to suggest places for local meet-ups.
Other virtual components to include in your event experience
Depending on the objectives for your event production, you may also consider including these elements:
Trade show and demo integrations: Give your sponsors a place to set up shop and promote a product or service with a dedicated virtual exhibit area. The pandemic forced the Texas Society of Architects to transform their annual conference into a virtual event. Fortunately, we came through with an immersive experience. Their virtual trade show highlighted 30 sponsors. Each had an interactive virtual booths, designed for their unique needs.
Check out the case study to learn more about our strategy for producing an energizing virtual event for the TxA Virtual Conference And Showcase.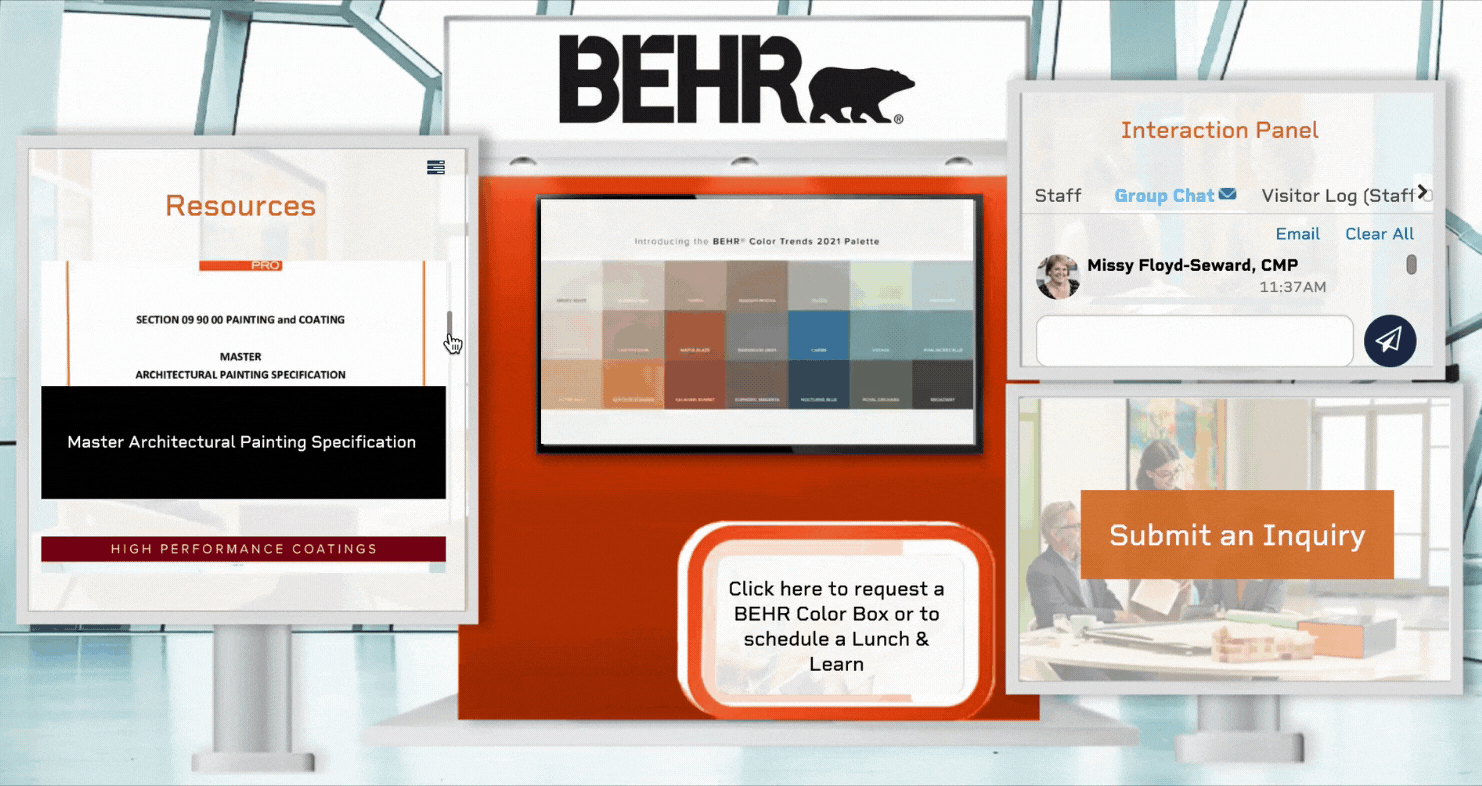 Continuing education and certification: Your audience wants to keep up to date with the latest information and certifications in their field. We offer many ways to deliver that information, quiz them on their knowledge and account for the credits they earn. Want to deliver the certificate right to their in-box? No problem, we can take care of that too.
Gamification: Leverage gamification to motivate your attendees to take action, or just to keep them awake and engaged. Basic gamification might be awarding points for session attendance, interaction with others, breakout participation, and more. Or, take it to the next level with scavenger hunts, hosted game shows or virtual escape rooms.
Break time activities: Give your attendees something fun to do during breaks like an instructor-led yoga session, live musical entertainment, or a silent auction.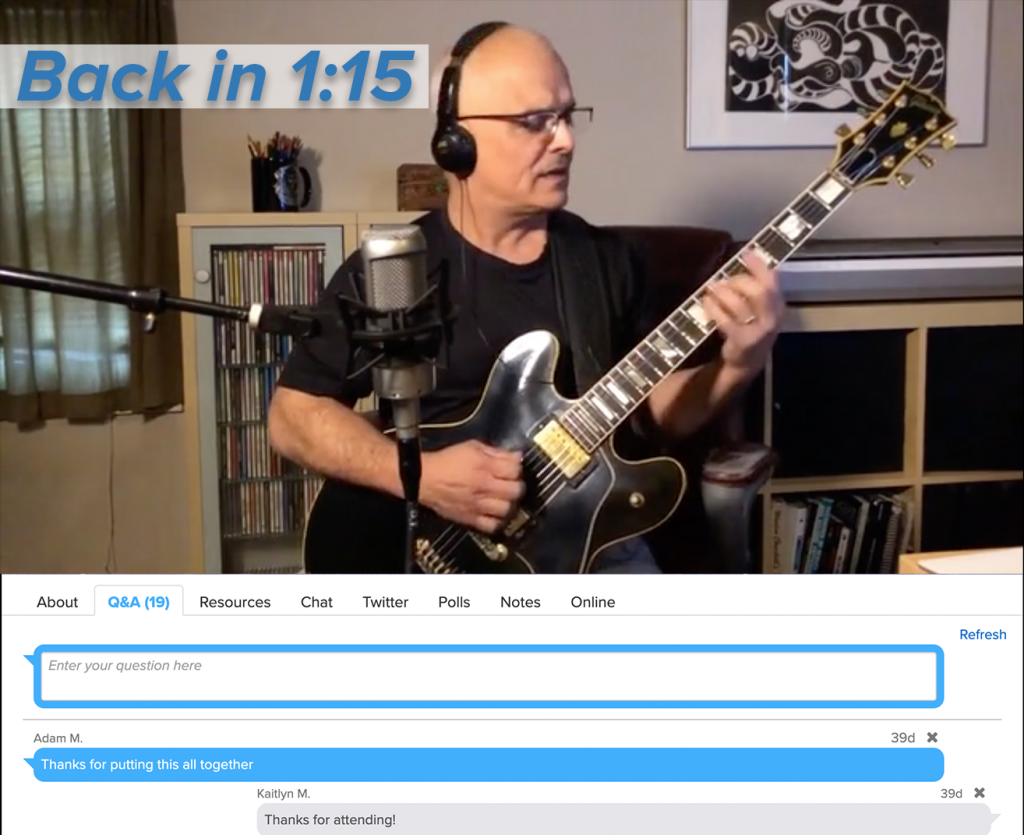 Building your virtual event platform
We view the event platform as the framework that houses what really matters – the content. Clients can use our preferred platform, or we can design something customized to your unique needs. 
A good virtual event platform includes a branded front-end experience for your attendees. Here, they can seamlessly interact with the environment. The platform makes it easy for guests to network with other attendees and virtually immerse themselves in the event. The back-end should feature a host of analytics so you can accurately track your return on investment (ROI).
Hosting a virtual or hybrid event gives you the opportunity to build ultra-realistic, 3D environments. 360 cameras let guests look around freely as if they were sitting in the room. Or place speakers on a branded virtual stage set in a 3D meeting hall or ballroom.
One major advantage virtual events have over live events is the quality of data you can gather. Many virtual platforms offer granular analytics on each attendee. Some analytics you can gather include:
These data points enable you to accurately measure the return on your investment. We archive chat sessions, poll results, and review attendee behavior. As a result, you gain insight into the success of your event, so you can improve for the future.
How we create content for virtual events
Your most important asset during a virtual or hybrid event is digital content – presentations, interactive activities, branded videos and more. These are the vehicles that drive your message and keep guests engaged.
We use state-of-the-art tools and cinematic production techniques to create broadcast-quality videos, which you can offer as on demand content. And we can do it all remotely. We'll ship you an easy-to-use package complete with video production essentials like lighting, tripods, microphones, and even a green screen if you need it. As for the camera, you probably already have a great one in your pocket right now.
We actually encourage clients to use their cell phone camera. Nearly every modern smartphone records in full HD format and auto-adjusts lighting for a broadcast-ready picture.
We know it can be daunting to ask presenters to create their own videos at home. That's why we've streamlined the process, so it's as easy as just pressing record.
How we create content for virtual events
Broadcast streaming tools allow us to stream up to 4K from anywhere, to anywhere. During the event, we monitor your contributor's internet speeds in realtime to optimize their video quality. Plus, presenters are never left out of the loop. They see an informative return screen with presentation notes, guest lists, questions, or whatever they need during their presentation.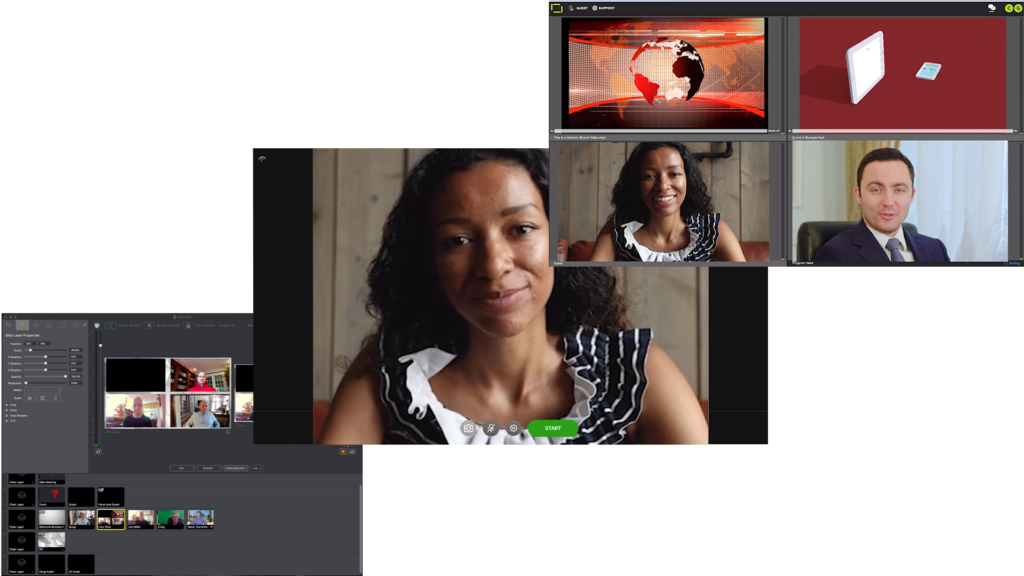 Want to host an energizing virtual event? Looking to keep hybrid event attendees engaged? Our event production team can help. Take a look at 
our past work
 to see the dynamic experiences we've created for events on screen, on stage and online.
See what we can really do when we work together.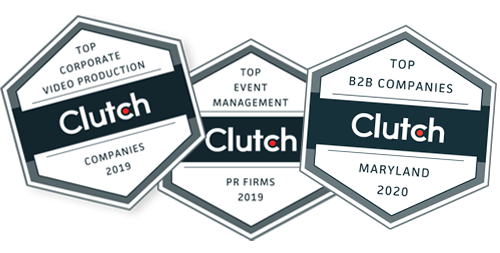 Top Creative Event and Video Production Companies in Maryland and Washington, DC