Trade Show Messaging & Content
When people want to learn about exciting new products, meet industry partners, and preview innovations, trade shows are the place to be. With thousands of potential customers in one place – plus countless competitors vying for their attention, you must make a solid first impression. To make the most of your event marketing, you need a trade show booth that stands out in a sea of competitors. 
A successful trade show booth is dynamic, memorable, and creative. At TalkingTree Creative, we use cutting-edge technology and exceptional design to cultivate a powerful experience that the attendees at your next event won't soon forget.
We are one of few strategize → design → produce agencies that make the entire process more efficient and cost-effective, all while delivering the punch you need to stand out from your competition. TalkingTree Creative delivers the impact only attainable when one company designs an experience that considers your attendees and that same agency produces your content and reports on the ROI.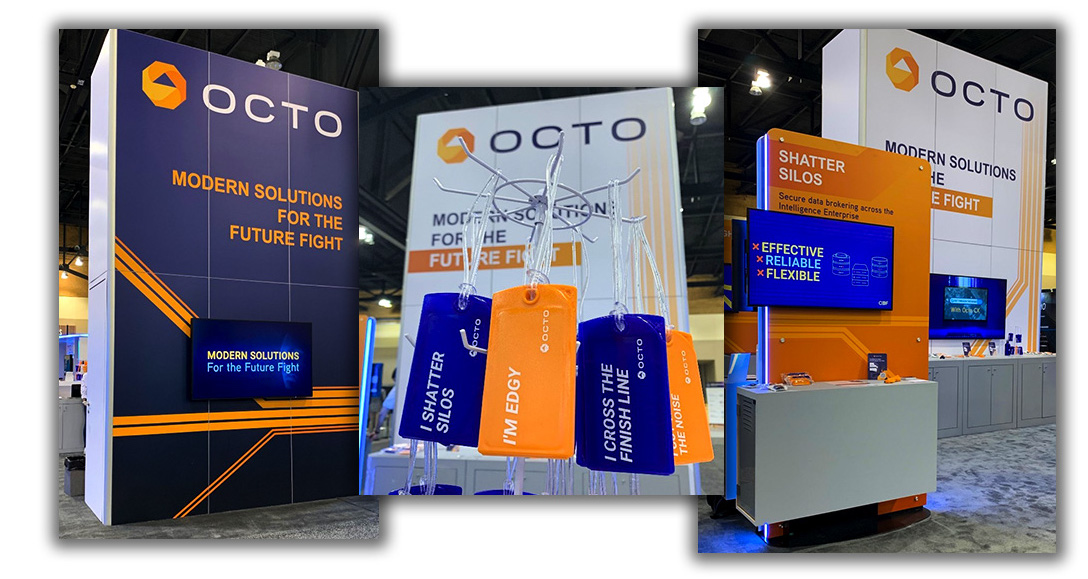 The value of trade show marketing
But first, what are the benefits of marketing at trade shows? Trade shows are one of the only places you can connect with hundreds or thousands of potential clients and business partners. Whether your business is a fresh startup or an industry veteran, trade shows should be an essential component of your marketing strategy. 
Research shows that 74% of marketers consider events essential to driving customer demand. Trade shows give you one-of-a-kind access to potential clients. You can show off new products, gauge customer interest, and demonstrate how your brand can solve their challenges. Here are just a few of the benefits you'll earn when you invest in trade show marketing. 
What does trade show marketing include?
A strong trade show marketing strategy includes many different components, all of which must work together in tandem. From eye-catching displays to product demos and post-show outreach, trade show marketing can get complicated fast. 
Explore the essential components of a successful trade show marketing plan:
Dynamic Trade Show Booth
Your trade show display is your first impression. As the first thing they see, your booth is the primary factor that will determine whether they step inside to learn more. In fact, attendees visit just 14% of the booths exhibiting at trade shows.
So what makes a good trade show booth? The most memorable trade show booths have:
Clear brand messaging
Interactive components
One-of-a-kind experiences
Clear solutions to client challenges
Technology Integrations
Whether you're demonstrating a new product or gamifying your booth, technology integrations are often the key component that makes your display stand out from the crowd.
Gamification: Host a game show, or turn your product demos into a competition. Games attract people to your booth and ensure their experience is memorable. Plus, they're a great way to capture leads.
Product Demos: Have a new product on the horizon? Debut it at your next trade show. And be sure to promote on social media in the weeks leading up to the event – that way people attending know that stopping by your booth is a must.
Podcasting & Livestreaming: Want to attract attendees to your booth while also creating captivating content for social media? Record a podcast episode or livestream from your booth.
Augmented reality & Virtual Reality: Can't bring your product with you to the booth? Leverage AR or VR technology to showcase your product, provide a virtual tour, and more.
Lead-Generation Strategy
All the work you put into designing your trade show booth is for one goal: capturing leads. Your lead generation strategy should be comprehensive, incorporating both pre and post-show marketing. Plus, a quick and easy way to capture contact information from event attendees is essential.
Trade Show Marketing Materials
No event is complete without a swag bag – or ten. Branded pens, notebooks, and water bottles are just a few of the common items handed out as free swag. Taking the time to put some thought into your swag items can ensure customers think about you long after the event is over.
Dynamic trade show experiences by TalkingTree Creative
Attending trade shows can be expensive, but an unforgettable booth experience ensures you get a return on your investment. View our case studies to see how we've helped clients from various industries make a lasting impression.
See what we can really do when we work together.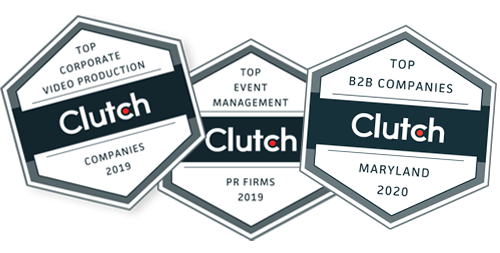 Top Creative Event and Video Production Companies in Maryland and Washington, DC