Virtual Marketing: Is AR or VR Right For Your Campaign?
Imagine taking your customers, employees or event attendees on a journey anywhere in this world – or even out of this world. Just strap on a virtual reality headset, and you're ready to go. No air travel is necessary! Or would you rather bring the experience to them? Through augmented reality, you can bring fantasy elements to the real world. 
Whatever story you aim to tell, virtual and augmented reality can ensure it's a story your viewers won't soon forget. Explore how we use virtual and augmented reality technology to immerse your audience in an alternate universe or bring out-of-this-world creations into their environment. 
Virtual vs. augmented reality: what's the difference?
Whereas virtual reality (VR) is a fully immersive experience, augmented reality (AR) creates a scene within the real world. 
VR delivers an immersive experience that allows users to explore, learn, and participate in custom environments. VR can be deployed using a variety of platforms including the Oculus Quest, HTC Vive, and new solutions are constantly being released. 
Meanwhile, AR allows you to bring your brand into your audience's world. Using a smartphone or tablet, your audience can interact with your AR experience within their environment.
See a breakdown of the significant differences between VR and AR:

Virtual Reality Marketing
Transport users to a world of your creation
Uses a VR headset like the Oculus Quest or HTC Vive
Creates an immersive experience complete with sight and sound and interactive elements

Augmented Reality Marketing
Cultivates a scene in the real world
Typically requires the use of a smartphone to display visual elements
Users can interact minimally with the environment
Using virtual and augmented reality for digital marketing
So, how can VR and AR be used to create marketing experiences? We use VR to design limitless customized environments. Plus, we can even take your virtual world a step further. Through VR, your audience has the power to make choices about what they want to see, hear, and learn next while they're inside the experience.
Both AR and VR encourage users to interact with their environment, so they're promising tools for virtual marketing. For instance, a commercial real estate firm could use VR to offer virtual tours to prospective tenants. Tenants can walk through the space and even interact with items or rooms to learn more about them. 
Similarly, AR gives you the power to enhance marketing experiences. Consumers can use a smartphone to bring your products into their world. In fact, AR is commonly used to market consumer goods like clothing, cosmetics, and furniture. The smartphone tracks a user's surroundings, allowing them to see how a piece of furniture might look in their home or to try on a pair of glasses.
You also have the power to gamify your marketing experiences through AR. Using QR codes, marketers can encourage consumers to interact with ads. For instance, when a user points their smartphone camera at a QR code, a character, game or menu can appear.
What are the benefits of virtual and augmented reality marketing?
The real value of virtual marketing is that it's personal, interactive, and memorable. 
Personalization
Studies show that 97% of marketers observed positive results when using personalized marketing. VR and AR marketing is the pinnacle of personalization. These cutting-edge technologies give you the power to create one-of-a-kind experiences for your audience. 
Interactivity
Whether consumers are testing out cosmetics, exploring a virtual tour, or playing an AR game, their experience is entirely unique. Ultimately, they have the power to decide what comes next, and that power encourages far more users to engage. In fact, interactive content drives 28% more views than other types of content. In other words, AR and VR have the potential to get more eyes on your marketing.
Memory Recall
Finally, VR and AR marketing is particularly memorable. They allow your brand to stand out. Plus, consumers are more likely to recall your marketing experiences when they interact with them directly. Studies reveal that 79% of users demonstrate greater memory recall with interactive marketing methods.
Develop international awareness campaigns with augmented reality
Want to bring your story into your audience's world? AR marketing is the way to go. All users need to interact with it is a smartphone, so it's extremely convenient. Once they scan a code or simply point their camera at a specific place, they can interact with your marketing messages. 
Our team of marketing professionals worked with a public health NGO to create an international advertising campaign with AR technology. Using social media video and augmented reality advertising, we sought to reach a global audience.
View our case studies to see more examples of how we elevate digital marketing campaigns.
Enhance trade show marketing with virtual reality
The real estate industry has seized on VR marketing as a powerful tool. You can use VR to offer virtual tours to out-of-state buyers or offer a walkthrough of a space that's not yet built. But VR isn't confined to Earthly dwellings alone. 
For our telecommunications client, we created a VR tour of their new space satellite. Trade show attendees were invited to wear a headset and tour the new Network Operation Center. Before taking their journey, viewers interacted with a company executive who introduced the experience. 
Then, they were free to travel through the virtual tour on their own. The tour included custom video content and lots of interactive elements. Viewers could even experience what it feels like to take off into orbit alongside the new satellite. 
Learn more about the immersive experience in our case study.
Bring your story to life through virtual and augmented reality
We use cutting-edge technology to create content that is engaging and memorable. When you use virtual and augmented reality marketing, your audience is more likely to retain information because it's exciting, interactive, and entertaining. Get in touch to bring your story to life.
See what we can really do when we dream together.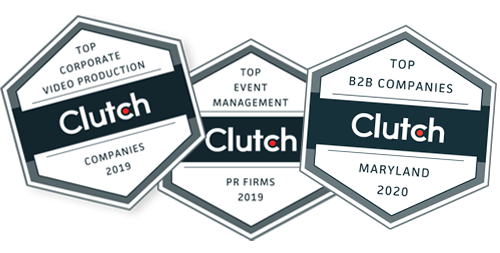 Top Creative Event and Video Production Companies in Maryland and Washington, DC