Virtual Studio Solutions
Does your video production need a boost? What if you could broadcast from a branded, custom studio environment without the price tag of a pro-studio set? Virtual studio technology makes broadcast-quality productions accessible within your budget.
TalkingTree Creative's virtual solutions blend stunning graphics with limitless design possibilities. Using the top virtual engine on the market, we'll build your photorealistic set at a fraction of the price.
Mixed Reality and Virtual Sets from TalkingTree Creative on Vimeo.
Elevate your Credibility
This goes all the way back to Aristotle. If you want people to listen, you've got to earn their trust. In Ancient Greece, this meant appearing credible in the moment by listing your qualifications or demonstrating wisdom.
In this century, modern media gives us more creative avenues for establishing your brand's character and goodwill. A video with a high production value instantly makes your brand appear trustworthy and credible. Raising your production level demands attention and tells your audience that you're invested in creating a memorable, worthwhile viewing experience.
Your Vision is the Blueprint
Watch your vision evolve into a custom virtual environment. Whether you're shooting a business talk show or you want to report from the moon, you have creative power over your entire production. 
Real-Time Visual Data
Bring an exciting visual element to your information with real-time, augmented reality and 3D graphics
Present numerical data visually with 3D charts and graphs

Keep your audience engaged with live stats

Reveal prototypes and products using augmented reality
See what we can really do when we work together.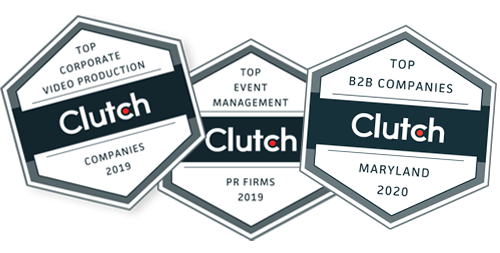 Top Creative Event and Video Production Companies in Maryland and Washington, DC