To truly elevate your next corporate event and transform it into an interactive experience that your audience will remember long after it's over, incorporating a custom theatrical event is a surefire way to succeed. A custom theatrical event can be tailored to just about any event, including nonprofit fundraisers and corporate seminars. TalkingTree Creative has the experience and skills needed to create the perfect custom theatrical performance piece to elevate your next event. We are based in the Washington, D.C/Baltimore region, but we work with clients throughout the Mid-Atlantic and the country. We also love partnering with national organizations who are hosting events anywhere in the country, and we will bring our network of connections to the table so your event goes off without a hitch.
What is a custom theatrical event?
Simply put, a custom theatrical event is a theatrical production written and staged for your highly-specific event. That means it will be unlike anything your audience has ever seen! When planning your custom theatrical event, we will consider your event's theme and goals so that the piece we create will make your event more effective in a fun, interactive, and engaging way.
Planning a custom theatrical event is no easy feat, which is why you must bring in the help of professionals. At TalkingTree Creative, we will handle every aspect of planning, execution, and management of your custom theatrical event. A unique piece of theater is an excellent addition to just about any event, including:
The sky is the limit when it comes to custom theatrical events, so you need to work with a production company with the experience and skills to guide you through the process. We work closely with the stakeholders in your organization to ensure that the piece of theater we create will align with your mission and company voice. In addition, we'll analyze your target audience to ensure that we incorporate cultural touchstones that will resonate with your audience and create a genuine emotional connection. By being communicative every step of the way, you can be confident that we will produce theater that meets your needs and delights and captivates your audience. The end result? An engaging and fun multisensory experience that your audience will never forget!
See what we can really do when we work together.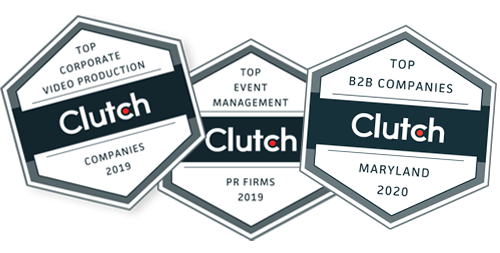 Top Creative Event and Video Production Companies in Maryland and Washington, DC