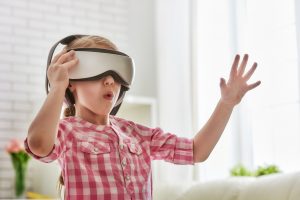 The holiday season is a very special, magical time of year. But for kids unable to leave the hospital, it's quite a different story. To bridge this gap, Honda has employed virtual reality to bring the enchantment of the holiday season directly to patients at Children's Hospital of Orange County (CHOC). The automaker's Candy Cane Lane virtual experience takes kids to a snow-covered neighborhood filled with sparkling holiday light displays. A Honda sleigh pulls the kids along, witnessing more extravagant and beautiful decorations as they travel. Finally, it ends with a vibrant fireworks display and an appearance by Santa himself and his flying reindeer.
A Meaningful Experience
Wearing an Oculus Rift headset, kids at CHOC were able to escape the ward for a minute and a half as they drove through falling snow and the gleeful sounds of bells and harps. Susie Rossick, assistant vice president of Honda marketing said in a statement, "Honda has the unique privilege of transporting children at CHOC Children's to a virtual winter wonderland. Seeing the kids' heartfelt reactions to the experience and being able to bring magic to their hospital stay is especially meaningful during the holidays."
Generating Awareness
One of the best ways to understand a cause is to be able to go there. Honda also shared a short, documentary-style video of the children's reactions to the VR experience, and is donating $1 to CHOC Children's and the Pediatric Brain Tumor Foundation for each "like" or "love" the clip receives. When it comes to inspiring support for causes, VR works.
Create Something Magical with Virtual Reality
Virtual reality is set to become the biggest change in the way media is consumed since, well, the internet. Honda's Candy Cane Lane experience demonstrates just how powerful virtual reality experiences really are — enabling emotional connections, immersion, and storytelling to reach wider audiences, no matter where they are. Have you considered how virtual reality can help your cause?
Virtual Reality Experiences from TalkingTree Creative
Ready to share your story? TalkingTree Creative is your premier guide to brand strategy, event planning, video production, and live entertainment. With help from our production experts you can elevate your message and convert your audience to fans by transforming your next event into a fully engaging, memorable experience. We are located in the Baltimore-Washington Metro area, but are ready to accommodate the needs of businesses and organizations anywhere in the U.S. Get in touch with us today at 240-252-1200 or 202-684-2225, and let's start a conversation. Find out what we're up to on Facebook, Twitter, Google+, and Pinterest.