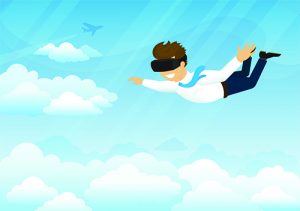 Although virtual reality was initially seen as a way to revolutionize gaming, the technology's potential for innovation has reached much farther. Virtual reality is poised to forever change the event industry, as brands are better able to reach their audiences and immerse them in their brand's messaging. Here are a few ways virtual reality is making its mark on events.
Brand Immersion
The most obvious benefit of virtual reality for prospective clients and event planners is the ability to immerse buyers in the product experience. Virtual reality does a much better job of showing customers how a product or service will improve their life. A report on consumers and virtual reality demonstrated that consumers are 135% more likely to make a purchase when they experienced it through augmented or virtual reality.
The Virtual Reality Venue
The logistics of event planning has a lot to gain by incorporating virtual reality. The costs of finding an arena or event venue and managing those arrangements are replaced instead by the cost of simply renting a server. It's not hard to imagine a future in which virtual reality completely replaces the need for physical venues. With virtual reality, people from all around the world can attend from the comfort of their own home, making events significantly more accessible.
Mission Critical Storytelling
Virtual reality is changing how brands convey stories to their audiences. An event by Sundance's New Frontier, for example, employed VR headsets to greet guests with sci-fi themed movie scenery as they explored the exhibit. The technology showcased the ability to transport audience members to another world, completely transcending the limitations of traditional storytelling methods. As the medium becomes more refined, artists and technologies will only continue to push these boundaries, providing attendees, organizers, and marketers an entirely new form of engaging entertainment.
In fact, TalkingTree Creative recently deployed a Virtual Reality Experience for the Hughes Dealer Summit.  They deployed the experience on Samsung Gear VR as a private app and during the experience, dealers were treated to a visit to the Hughes Network Operations Center where they enjoyed videos on a large floating screen. The truly exciting piece was a "space walk" in which the viewer was transported into orbit where they could tour the coverage provided by the Hughes satellites. Dealers and Hughes executives raved about the entire experience and the dealers were moved on an emotional level to bond with the brand.
Virtual Reality and Live 360 Video from TalkingTree Creative
Ready to share your story? TalkingTree Creative is your premier guide to brand strategy, event planning, video production, and live entertainment. With help from our production experts you can elevate your message and convert your audience to fans by transforming your next event into a fully engaging, memorable experience. We are located in the Baltimore-Washington Metro area, but are ready to accommodate the needs of businesses and organizations anywhere in the U.S. Get in touch with us today at 240-252-1200 or 202-684-2225, and let's start a conversation. Find out what we're up to on Facebook, Twitter, Google+, and Pinterest.