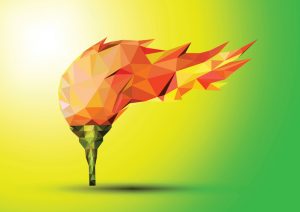 If you aren't yet sold on virtual reality's market potential in social media and event production, look no further than the 2016 Olympic Games currently being held in Rio de Janeiro, Brazil for evidence. The world's greatest sporting event has always been a showcase for cutting edge technology, and virtual reality is no exception. For tech observers, how NBC and Samsung's virtual reality partnership plays may end up being one of the most fascinating developments to emerge from the Summer Games.
Virtual Reality at the Games
In total, the Olympics Broadcasting Services will capture 85 hours of virtual reality footage over the course of the events, streamed directly to users of Samsung's Gear VR headset. NBC will be covering all the action including men's basketball, gymnastics, track and field, volleyball, diving, boxing and fencing. Oculus, the virtual reality company bought by Facebook in 2014, reported that over a million people had already used the Samsung Gear VR in April, indicating that the technology is seeing steady growth.
A Whole New Perspective
Although NBC is presenting its virtual reality programming on a delay, the technology is providing an immersive new way to experience the games, rivaled only by the being there yourself. Fans can be transported to iconic locations such as Maracana Stadium or Copacabana Beach without ever having left the comfort of their homes. Marketers will undoubtedly be watching closely to see how popular the technology proves to be, and to determine how it can be incorporated into similar experiences in the future. 360 degree storytelling may end up being the key to making events like the Olympics that much more accessible.
See it Yourself
If you haven't already caught the games in virtual reality, there's still time! Here's NBC's virtual reality streaming schedule for the remainder of the event:
August 17 – Beach volleyball, women's medal matches @ 9:00 p.m.
August 18 – Beach volleyball, men's medal matches @ 9:00 p.m.
August 19 – Basketball, men's semifinals @ 2:30 p.m., 6:00 p.m.
August 20 – Diving, men's 10m semi and final @ 10:00 a.m., 3:30 p.m.
August 21 – Basketball, men's medal games @ 10:30 a.m., 2:00 p.m.
August 21 – Closing ceremony @ 7:00 p.m.
360 Video and VR Production from TalkingTree Creative
Ready to share your story? TalkingTree Creative is your premier guide to brand strategy, event planning, video production, and live entertainment. With help from our production experts you can elevate your message and convert your audience to fans by transforming your next event into a fully engaging, memorable experience. We are located in the Baltimore-Washington Metro area, but are ready to accommodate the needs of businesses and organizations anywhere in the U.S. Get in touch with us today at 240-252-1200 or 202-684-2225, and let's start a conversation. Find out what we're up to on Facebook, Twitter, Google+, and Pinterest. 1