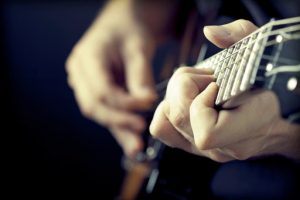 When it comes to building an event that sticks in the minds of your attendees, entertainment should be your top priority. You could opt for anything from custom video to theatrical acts, but what about live music? Music is widely regarded as the most accessible form of entertainment, and hearing it live can have a unique impact on your audience. Here are just a few reasons why live music could be the key to your next event's success.
Music Makes Memories
We've all experienced an old song that elicits vivid memories or emotions. Studies indicate that a broad range of neural networks are engaged when we listen to music, which is why music is increasingly being used as a therapeutic device for people suffering from traumatic brain injury or memory loss. Live music that is driven by a social experience is especially likely to have staying power in our minds.
How It Works
The hippocampus and the frontal cortex are the two areas of the brain that deal with memory. Because these two sections of the brain take in so much information, retaining it is not always easy. The structure of a song, the melody, rhyme scheme, and the images evoked by the lyrics are all musical tools that help us to recall information. It's also important to understand that there are two types of memory — implicit and explicit. Explicit memories involve our deliberate actions: What did you have for lunch yesterday? Implicit memories, on the other hand, involve our unintentional reactions to our surroundings.
Why It Matters
So why does any of this matter for producing a successful event? Well, our unconscious minds sometimes associate implicit memories with a particular event or experience in our lives. For event managers, the goal is typically to create an experience that sticks. Even if your attendees aren't giving the music their full attention, just having it there in the background can make it seep into their collective memories. In short, live music is incredibly powerful, and it could make your next event last longer in the minds of your audience.
Live Music and Entertainment Production from TalkingTree Creative
Ready to share your story? TalkingTree Creative is your premier guide to brand strategy, event planning, video production, and live entertainment. With help from our production experts you can elevate your message and convert your audience to fans by transforming your next event into a fully engaging, memorable experience. We are located in the Baltimore-Washington Metro area, but are ready to accommodate the needs of businesses and organizations anywhere in the U.S. Get in touch with us today at 240-252-1200 or 202-684-2225, and let's start a conversation. Find out what we're up to on Facebook, Twitter, Google+, and Pinterest.