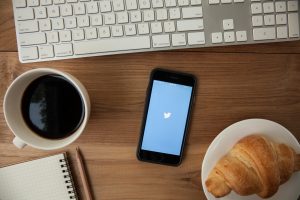 After several quarters of stagnant user growth and slowing sales, Twitter's recent foray into live video may be able to turn around its fortunes. Featuring high profile events like the presidential debate and Thursday Night Football has put the company back at the forefront of relevant social media platforms. In recent months Twitter has inked deals with NFL, MLB, NHL, NBA, the NCAA's Pac-12 Conference, Bloomberg Media, CBS News and Cheddar. The move is designed to make Twitter an alternative to traditional TV while also leveraging the company's existing social features to make content a more engaging and interactive experience for users.
Combining Content with Social
While it's hard not to be cynical about the 89-minute back and forth banter between the 2016 Presidential candidates, the event generated more than 3 million mentions of Donald Trump and Hillary Clinton, making it the most tweeted debate ever. Twitter expects that combining content with real-time tweets will draw viewers to the service that are not already a part of its 310 million monthly user platform. You could say Twitter is making the experience of the debates more "fun", as it gives everyone the power to comment in real time on the ugliest race in modern US history.
The Future of Television
Merging live TV and the social sphere has traditionally proven tricky, but Twitter is in a unique position to overcome the hurdle. Over two million viewers watched some of the Thursday night NFL football game on Twitter's "Twittercasts" during each of the last three weeks. Viewers can access the stream from anywhere that Twitter runs–whether it's on your phone, in a browser, or one of Twitter's new apps for Apple TV, Xbox, and Amazon Fire TV. Beneath the stream viewers will see a series of curated tweets from players, refs, and reporters. While the Twittercasts aren't necessarily revolutionary, they raise a number of interesting questions about the next development of internet-distributed television. Television might never again be a predominately live medium, but platforms like Twitter are perfect for watching media events unfold in real time.
Live Video & Streaming Events from TalkingTree Creative
Ready to share your story? TalkingTree Creative is your premier guide to brand strategy, event planning, video production, and live entertainment. With help from our production experts you can elevate your message and convert your audience to fans by transforming your next event into a fully engaging, memorable experience. We are located in the Baltimore-Washington Metro area, but are ready to accommodate the needs of businesses and organizations anywhere in the U.S. Get in touch with us today at 240-252-1200 or 202-684-2225, and let's start a conversation. Find out what we're up to on Facebook, Twitter, Google+, and Pinterest.