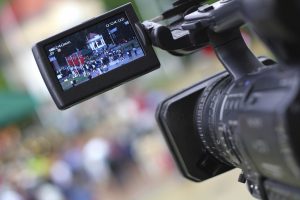 Event planners know how important it is to get your audience engaged in every way possible. It is the hallmark of a successful event planning strategy. Technology plays an important role in achieving this – everything from creating engaging websites and apps to including games and giveaways during the event. Video has been the preferred style of communication for today's young tech-savvy event attendees. According to studies, millennials are watching 53% more online video today than in years past. It's time for event planners to take advantage of the power of video engagement and use it to create emotional connections with their viewers at their events. Here are a few ways you can wield this power at your next event.
Reporting Event Updates in Real Time
Facebook Live, Snapchat, and Instagram are all great tools you can utilize to report on updates to your event as they happen. Quick, one-minute long recaps of your event can keep your audience up-to-date and aware of what's going on at the event. Remember that video allows you to show a visual representation of your event, so take care to make it worth the effort.
Personalization
Video engagement needs to be designed and thought up with the needs and preferences of the viewer in mind. An event attendee will not engage if the video does not offer them a reason to do so. Create videos with interesting, informative content according to the unique needs of your target audience. For example, event planners can use short how-to videos to introduce the event attendees to the host city or how to use your unique event app.
Using Video on Social Channels
Use the power of video marketing to promote contests and giveaways at your events. Video is quickly becoming the dominant, most successful form of content marketing on social media. Harnessing the power in unique, user-focused ways is the key to making sure your message stands out.
Tell a Compelling Story
Video has the power to hook an audience much more deeply than lines of text. All successful forms of video engagement use the power of storytelling to make this connection. Use captions, music, or anything else you might deem is necessary to make your story compelling.
EVENT AND VIDEO PRODUCTION FROM TALKINGTREE CREATIVE
Ready to share your story? TalkingTree Creative is your premier guide to brand strategy, event planning, video production, and live entertainment. With help from our production experts, you can elevate your message and convert your audience to fans by transforming your next event into a fully engaging, memorable experience. We are located in the Baltimore-Washington Metro area, but are ready to accommodate the needs of businesses and organizations anywhere in the U.S. Get in touch with us today at 240-252-1200 or 202-684-2225 and let's start a conversation. Find out what we're up to on Facebook, Twitter, Google+, and Pinterest.