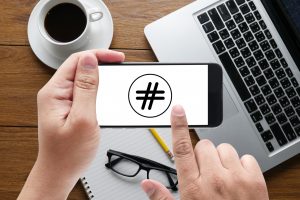 Event planners have been quick to adopt technology to help create novel experiences for their attendees. Social media strategy, unheard of as recently as a few years ago, is now a central part of event production and can make or break an event. Not only is social media important for branding and promoting your event, it is also a window into the minds of your attendees. Event planners can gain useful insights and learn from using social media. The usual way to make social media work for event planners is by utilizing an official event hashtag, but one company is going beyond the hashtag and using what's called geofencing to get more qualitative and quantitative engagement data.
Meet Ampsy
Ampsy is a company formed in 2014 by founder Jeremy Gocke which initially created, promoted, and tracked hashtags for events. After a year of doing that, however, Gocke found that most of the time, fans and attendees either misspelled the official event hashtag or didn't use it at all. "We went back and analyzed more than a thousand campaigns," Gocke said, "and found that anywhere from forty to eighty percent of the content was missing the brand's hashtag or handle." How can you account for that massive loss of data?
Geofencing
Gocke ended up switching the focus from the hashtag campaign to a new method of tracking social channels – geofencing. Geofencing creates a virtual fence around a venue or event location and identifies and analyzes all posts on social platforms being made in that fenced-off location. Many times, Gocke found, event attendees were using their own hashtags and, in many cases, these were trending higher than the official event hashtag. Ampsy then feeds this information through IBM Watson to give planners a deeper understanding of the people talking about the brand.
While hashtags still have a place for event planners today, it is clear that the future of measuring event engagement will be through the widespread adoption of geofencing.
EVENT AND VIDEO PRODUCTION FROM TALKINGTREE CREATIVE
Ready to share your story? TalkingTree Creative is your premier guide to brand strategy, event planning, video production, and live entertainment. With help from our production experts, you can elevate your message and convert your audience to fans by transforming your next event into a fully engaging, memorable experience. We are located in the Baltimore-Washington Metro area but are ready to accommodate the needs of businesses and organizations anywhere in the U.S. Get in touch with us today at 240-252-1200 or 202-684-2225 and let's start a conversation. Find out what we're up to on Facebook, Twitter, Google+, and Pinterest.
Source: 1