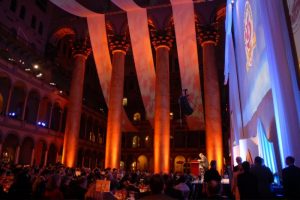 Choosing the right venue is perhaps one of the most important decisions you will make when putting together your event. Your event venue is dependent on a ton of critical planning information, such as the date of the event and your budget. But that's not all there is to it. Here are a few of the most important factors you shouldn't overlook when choosing an event venue.
1. Ambiance and Acoustics
Consider the existing decor of the venue. Does the ambiance match the desired feeling of your event (upscale, high tech etc.)? How much work will need to be done for the venue to fully accommodate your event? It's also worth considering the venue's acoustics. If you're hosting a speaker, will everyone attending be able to hear them? A venue with a low ceiling may feel cozy, but can also make it louder when the space is packed.
2. Location
A convenient location can mean different things for different events. How much traveling will your attendees need to do to reach your venue? If you're hosting people from out of town, it may be worth choosing a venue that's near airports and hotels. You want to make your event easy and enjoyable for guests, not a hassle.
3. Capacity and Accessibility
It goes without saying that you need to know how many guests your venue can accommodate. However, you should also consider how many people will fit comfortably within the space. In addition, consider whether or not your venue will be accessible for guests with special needs or children.  If your venue isn't inclusive, it might not be the right space for you. Does the venue have a parking lot with valet parking?
4. Services and Amenities
It's also important to consider what kind of services and amenities your event venue provides. Can they also cater your event? Venues without kitchen facilities may still have a partnership with a food provider that you may or may not be required to use. If you're planning to show video, you'll also want to consider what kind of audio-visual equipment they have available or whether you will required to bring that in yourself.
Event Production from TalkingTree Creative
Ready to share your story? TalkingTree Creative is your premier guide to brand strategy, event planning, video production, and live entertainment. With help from our production experts you can elevate your message and convert your audience to fans by transforming your next event into a fully engaging, memorable experience. We are located in the Baltimore-Washington Metro area, but are ready to accommodate the needs of businesses and organizations anywhere in the U.S. Get in touch with us today at 240-252-1200 or 202-684-2225, and let's start a conversation. Find out what we're up to on Facebook, Twitter, Google+, and Pinterest.