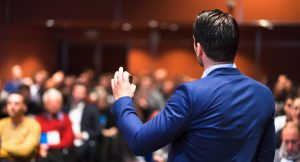 Hiring the right keynote speaker can be surprisingly challenging. There are many variables to consider when trying to select someone who will be a good fit for your event. Here are a few things you may want to keep in mind.
Communicate the outcome of the speaker's presentation.

All keynote speakers are different, and many of them have qualities and strengths that make them a better choice for different types of events. Do you want someone who is entertaining, inspiration, or informative?
Ask for references.

Contact people that this person has spoken for before. Ask if they would hire this person again.
Avoid egocentric speakers.

You're not putting an event on for your speaker. While it's nice to have someone who can share stories that are relatable, it's still important that your speaker is someone who thinks of the people in the audience.
Invest in someone worthwhile.

As with many things, you get what you pay for when it comes to

quality speakers

. Determine your budget and go from there. Professional speakers with larger fees will usually be willing to go the extra mile for your event.
Coordinate with your speaker.

A lot of times people with throw together an event and the speaker feels like an afterthought. Make sure that you are coordinating with your event organizers and the speaker so that everyone is on the same page. It's super frustrating for a speaker to have to cut something they've planned short.
Have a follow-up strategy.

An event that's intended to create lasting change requires more than just a single experience. A good speaker will give you ways to follow-up with them. He/she might offer one-on-one consulting or be able to recommend certain reading material.
Do I need a speaker?

Sometimes there are better solutions for the kind of event you're staging than a speaker. If you're looking to entertain or engage your audience,

live video

or

virtual reality

might be a better solution.
Event Production and Creative Marketing from TalkingTree Creative
Ready to share your story? TalkingTree Creative is your premier guide to brand strategy, event planning, video production, and live entertainment. With help from our production experts you can elevate your message and convert your audience to fans by transforming your next event into a fully engaging, memorable experience. We are located in the Baltimore-Washington Metro area, but are ready to accommodate the needs of businesses and organizations anywhere in the U.S. Get in touch with us today at 240-252-1200 or 202-684-2225, and let's start a conversation. Find out what we're up to on Facebook, Twitter, Google+, and Pinterest.