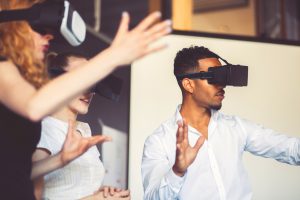 Although virtual reality (VR) and augmented reality (AR) have been around for a while, consumers seemed to regard them as little more than novelty experiences. That is set to change in a big way this year: according to a new forecast by market researcher IDC, spending on AR and VR worldwide is projected to more than double this year from $6.1 billion to $13.9 billion! Companies and event planners are already beginning to make more extensive use of this technology in their events, and we should see a similar rate of growth in the industry this year as well.
What is Driving this Rate of Growth?
This massive increase in spending on AR and VR can be drilled down to a few factors. First, the technology is simply becoming more normalized in our everyday lives. Second, companies are recognizing the potential of these technologies and innovating accordingly. Samsung, in particular, has made the distribution of their Gear VR headset hardware a priority, and other companies such as HTC and Sony are finding new ways to innovate in the VR realm. In AR, the unquestioned success of Pokémon Go in the middle of 2016 has led companies to fully embrace the power and reach of this technology.
What's the Immediate Forecast?
In terms of the shares of growth for VR and AR, VR is expected to hold an edge over AR this year and for the foreseeable future. Games and entertainment are primarily driving this growth, though we have also seen that VR can play a big role in making successful, engaging events. While that shouldn't change in the future, we are seeing a vast potential for AR and more start-ups are looking at ways to evaluate and harness this technology. The healthcare industry is notable for its efforts in AR development, and before long we should see it integrated into the event production industry as well.
GET IN ON THE FASTEST GROWING TREND IN THE INDUSTRY WITH VIRTUAL REALITY EXPERIENCES FROM TALKINGTREE CREATIVE
Ready to share your story? TalkingTree Creative is your premier guide to brand strategy, event planning, video production, and live entertainment. With help from our production experts, you can elevate your message and convert your audience to fans by transforming your next event into a fully engaging, memorable experience. We are located in the Baltimore-Washington Metro area but are ready to accommodate the needs of businesses and organizations anywhere in the U.S. Get in touch with us today at 240-252-1200 or 202-684-2225 and let's start a conversation. Find out what we're up to on Facebook, Twitter, Google+, and Pinterest.