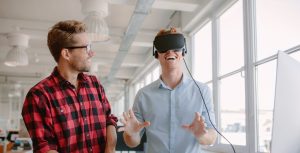 In recent years, event production has grown beyond the typical audio-visual experience. Of course, monitors, microphones, and lighting still play an important part in producing a great event, but new production trends are growing as quickly as the technology develops. It can be used to realize just about any idea from creating big visuals to providing useful information to your event attendees. Three production trends, in particular, have really taken off so far this year.
1. Projection Mapping
While projection mapping has been steadily growing over the last couple of years quietly, this technique seems poised to explode this year. This production option involves projecting still images or video onto a multidimensional shape such as the side of a building or a wall. Projection mapping can be used to create extraordinary visuals at your event that will impress your attendees and make your event the place to be.
2. Gesture Media
Even the standard pointers and clickers that speakers have been using at events for years are getting an upgrade thanks to technology. Gesture based controllers (such as the Myo and Leap Motion) are worn by the speaker and can be used to change slides, zoom in and out of images, switch cameras, demo products, and much more! And this growth in technology isn't limited to just speakers. Touchscreen technology designed for use by attendees has exploded over the last few years and has become a fixture at many events.
3. Augmented and Virtual Reality
Despite some hiccups when they first appeared on the scene, augmented and virtual reality have come into their own lately and have taken the event production field by storm. Augmented reality blends the real world with virtual content while virtual reality allows users to completely immerse themselves in virtual content. Event planners have utilized this technology to provide attendees with virtual demonstrations of products, to extend events into virtual spaces, and engage prospective clients. If you're looking to add the potential of this technology into your next event, contact TalkingTree Creative today!
GET IN ON THE FASTEST GROWING PRODUCTION TRENDS IN THE INDUSTRY WITH TALKINGTREE CREATIVE
Ready to share your story? TalkingTree Creative is your premier guide to brand strategy, event planning, video production, and live entertainment. With help from our production experts, you can elevate your message and convert your audience to fans by transforming your next event into a fully engaging, memorable experience. We are located in the Baltimore-Washington Metro area but are ready to accommodate the needs of businesses and organizations anywhere in the U.S. Get in touch with us today at 240-252-1200 or 202-684-2225 and let's start a conversation. Find out what we're up to on Facebook, Twitter, Google+, and Pinterest.