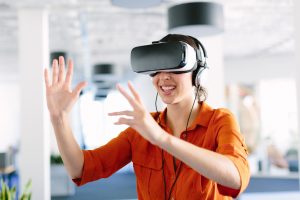 Technology has rapidly changed the event planning world in many ways. The rise of mobile technology has streamlined event organization and social media has revolutionized the way event audiences and organizers interact with each other. However, experts agree that all of these changes will seem minor in comparison to the changes that the adoption of virtual reality has been bringing to the event world. How is virtual reality changing the event experience for organizers and attendees?
Providing a Unique Vendor Experience
Many events make vendor demonstrations the centerpiece of the show and give these vendors the opportunity to show off their latest products in a bid to gain more customers. Virtual reality gives these vendors a whole new level of engagement with these potential sales leads. From fully virtual product demonstrations to a new way to deliver sales pitches, the possibilities of a fully immersive virtual world are almost without limit.
Virtual Events?
Virtual reality (and its relative, augmented reality) are already giving attendees a brand new way to interact with the physical setting of events. In the near future, though, we anticipate a revolutionary development – that of the "virtual event", where a vendor can set up a virtual event venue fully customized to their specifications. Attendees simply need to plug in to experience this world for themselves! We could also potentially see vendors pooling together to create a virtual event where they are purchasing not booth space, but server space! This could save companies money and get their names out there to more potential customers.
What's Next?
During the infancy of modern virtual reality, the question on everyone's minds was how to get this technology in the hands of customers. At first, and to a large degree even now, virtual reality has been limited to enhancing physical and temporal events – in other words, people had to come to your booth space and use your technology to get the full experience. But now that virtual reality sets are becoming more and more prevalent, we should see a shift away from this and the true importance of virtual reality for businesses will become clearer.
GET IN ON THE FASTEST GROWING TREND IN THE INDUSTRY WITH VIRTUAL REALITY EXPERIENCES FROM TALKINGTREE CREATIVE
Ready to share your story? TalkingTree Creative is your premier guide to brand strategy, event planning, video production, and live entertainment. With help from our production experts, you can elevate your message and convert your audience to fans by transforming your next event into a fully engaging, memorable experience. We are located in the Baltimore-Washington Metro area but are ready to accommodate the needs of businesses and organizations anywhere in the U.S. Get in touch with us today at 240-252-1200 or 202-684-2225 and let's start a conversation. Find out what we're up to on Facebook, Twitter, Google+, and Pinterest.