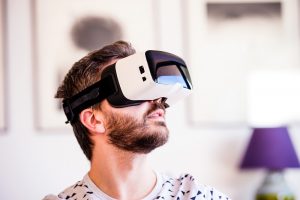 Immersive experiences such as virtual reality have been gaining steam in the marketing realm lately and it's not hard to see why. Audiences are hungry for quality content that fully appeals to their senses and marketers are looking for fresh, creative ways to deliver that content to them. Another method companies are using to engage their audience is through immersive 360 video experiences. How can an immersive 360 video benefit your business?
The History of Immersive 360 Video
360 video was invented in 1995, though the technology didn't really kick off for another nine years. This was when the first panorama cameras began hitting the market. Marketing experts immediately began to predict that this technology would revolutionize the way companies interacted with and engaged their audiences. The further developments of Oculus Rift and other virtual reality headsets made portable immersive 360 video within reach of businesses everywhere.
The Hard Numbers
It's hard to argue with results, and immersive 360 video delivers some of the best numbers of any marketing strategy. Even by simply placing a 360 video on your website or social media page, studies have shown that audiences are 66% more likely to watch the video and watch it for 44% longer. 360 videos also produce twice as many conversions as regular videos and click-to-purchase rates skyrocketed up to 14 times as high!
Where to Use Immersive 360 Video
Virtual reality headsets have grown the potential of immersive 360 video. Now you can deliver a quality immersive experience to your audience anywhere, anytime. Trade shows and other exposition events are a perfect opportunity to market your brand with immersive video – you'll notice higher rates of engagement than with traditional marketing materials and practices and, consequently, a larger number of leads generated.
If you're ready to harness the revolutionary power of immersive 360 video for your brand, TalkingTree Creative is ready to help. Contact us today!
GET IN ON THE FASTEST GROWING TRENDS IN THE INDUSTRY WITH IMMERSIVE 360 VIDEO EXPERIENCES FROM TALKINGTREE CREATIVE
Ready to share your story? TalkingTree Creative is your premier guide to brand strategy, event planning, video production, virtual reality, and live entertainment. With help from our production experts, you can elevate your message and convert your audience to fans by transforming your next event into a fully engaging, memorable experience. We are located in the Baltimore-Washington Metro area but are ready to accommodate the needs of businesses and organizations anywhere in the U.S. Get in touch with us today at 240-252-1200 or 202-684-2225 and let's start a conversation. Find out what we're up to on Facebook, Twitter, Google+, and Pinterest.