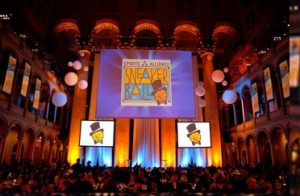 When it comes to producing a video to show at your next event, there are several key considerations to keep in mind. You need to follow the general rules we outlined last week, but you'll also need to think about the venue in which the video is going to be displayed. A professional video production company such as TalkingTree Creative can help you identify the various challenges you'll need to solve when making your event video and come up with solutions to make it a success. Here are some tips to keep in mind as you begin thinking about the production of a video for your next video.
Grab the Attention of the Audience
Video has a unique way of drawing people in and building excitement at an event. Think carefully about which points during your event could use the shot of energy that a video can deliver and start designing the video with this in mind. Whenever you need to re-engage an audience or have them pay close attention to something… these moments are perfect opportunities to show a video.
Make the Video Interesting
Now, there can be quite a difference between an interesting video and an informative video. Many companies think it's a good idea to deliver informative videos at their events with experts or other various "talking heads". But these are only effective in rare instances. Interesting videos, on the other hand, use a couple of particular factors:
They're tailor-made for the audience – in other words, the company recognizes the highly specific target audience they're trying to reach and deliver content that the audience finds interesting.
They make emotional connections with the viewer. Marketing experts know how powerful the emotions are and exploit this in commercials. A viewer with an emotional stake in a video will be more engaged with it.
By following these guidelines, you can make a video that will be the talk of your next event's attendees!
EVENT AND VIDEO PRODUCTION FROM TALKINGTREE CREATIVE
Ready to share your story? TalkingTree Creative is your premier guide to brand strategy, event planning, video production, and live entertainment. With help from our production experts, you can elevate your message and convert your audience to fans by transforming your next event into a fully engaging, memorable experience. We are located in the Baltimore-Washington Metro area, but are ready to accommodate the needs of businesses and organizations anywhere in the U.S. Get in touch with us today at 240-252-1200 or 202-684-2225 and let's start a conversation. Find out what we're up to on Facebook, Twitter, Google+, and Pinterest.