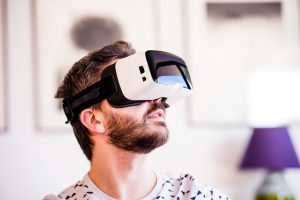 We've discussed in previous blogs how quickly virtual reality has grown over the past couple of years. VR is becoming a fixture for brands at events for good reason – it's one of the most effective ways of creating engagement with your audience! At TalkingTree Creative, we can create a completely customized virtual reality experience for your brand from scratch to help you harness the potential of this technology. Not sure how you could implement virtual reality at your next event? Here are some creative ways to do so!
Virtual Reality Gamification
One of the best ways to engage your audience with virtual reality is by creating a game out of it! The Boston Red Sox recently executed this successfully by creating a virtual batting practice game and placing it in the concourse of Fenway Park. A company looking to do this for themselves could place advertisements or branding within the virtual ballpark setting to help create awareness of their brand. However, this is only one example – the potential for engaging an audience with VR gamification is limitless!
Product Demonstration
Product demonstrations go hand-in-hand with events, especially trade shows. But what if your company's new product is too bulky to transport to the expo center or isn't at a stage in development where a physical prototype is possible? Virtual reality can solve this dilemma by giving your audience an interactive demonstration of your products or concepts without needing them in your booth!
Fully Immersive Site Surveys
Immersive videos have the power to transport a viewer across the farthest reaches of the globe. Companies can use the power of virtual reality to create an immersive experience for their audiences that can truly leave a powerful impression.
If you're ready to drive audience engagement at your next event with a completely customized virtual reality experience, contact us here at TalkingTree Creative!
GET IN ON THE FASTEST GROWING TREND IN THE INDUSTRY WITH VIRTUAL REALITY EXPERIENCES FROM TALKINGTREE CREATIVE
Ready to share your story? TalkingTree Creative is your premier guide to brand strategy, event planning, video production, virtual reality, and live entertainment. With help from our production experts, you can elevate your message and convert your audience to fans by transforming your next event into a fully engaging, memorable experience. We are located in the Baltimore-Washington Metro area but are ready to accommodate the needs of businesses and organizations anywhere in the U.S. Get in touch with us today at 240-252-1200 or 202-684-2225 and let's start a conversation. Find out what we're up to on Facebook, Twitter, Google+, and Pinterest.