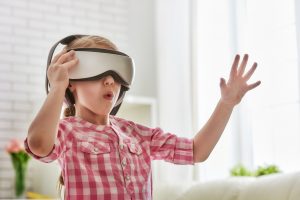 Have you decided to take your brand's content into the 21st century by exploring virtual reality and 360 video? We've discussed before how much potential these formats have in impacting and engaging your target audience. Once you've determined a marketing plan for your content, your next decision will be which of the two formats you should choose. Although they seem very similar, virtual reality and 360 video have a couple of differences that make each particularly suited to different types of content.
Perspective of the Viewer
It's true that both virtual reality and 360 video take advantage of the first person viewpoint to deliver content and drive engagement. There is, however, a crucial difference between the two perspectives. When somebody watches a 360 video, they are experiencing a 360 degree view from the physical position of a camera. Their perspective is limited to what this camera can show them and they cannot explore the environment beyond this point. Virtual reality, on the other hand, tracks the motions and positioning of the viewer, granting the user complete control of their experience. They are able to interact with their surroundings and are granted basic freedoms that 360 video simply can't match.
Progression of the Narrative
In 360 videos, the content creator determines the narrative of the video. It progresses from scene to scene, allowing the curator to tell the story they want to tell and present a very specific narrative to the audience. Virtual reality, by virtue of its relative freedom of motion, gives control of this narrative to the user. While the creator can present a narrative, the way in which it is presented is up to the user and the way they interact with the virtual world. This allows the content and the brand utilizing it to gain much deeper engagement as the user is allowed to create their own experience.
USE VIRTUAL REALITY OR 360 VIDEO AS PART OF YOUR MARKETING STRATEGY WITH THE HELP OF TALKINGTREE CREATIVE!
Ready to share your story? TalkingTree Creative is your premier guide to brand strategy, event planning, video production, virtual reality, and live entertainment. With help from our production experts, you can elevate your message and convert your audience to fans by transforming your next event into a fully engaging, memorable experience. We are located in the Baltimore-Washington Metro area but are ready to accommodate the needs of businesses and organizations anywhere in the U.S. Get in touch with us today at 240-252-1200 or 202-684-2225 and let's start a conversation. Find out what we're up to on Facebook, Twitter, Google+, and Pinterest.