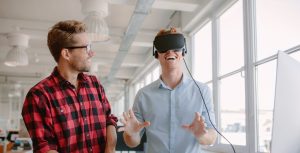 Virtual Reality: It's basically become a buzzword, right? VR isn't new to anyone in the tech industry, but it is accruing growing interest in the mainstream consumer landscape, which is new. Virtual reality services are easier than ever to get your hands on, and businesses want in. Whether you're newly interested, just getting involved, or you want to be prepared to field your customers' VR questions, here are some of the most common ones we hear. 
Bottom Line
If you're part of the marketing/event world, you're old friends with VR. But now, everyday businesses are getting curious about the countless commercial virtual reality applications currently available. We're talking about virtual reality's projected longevity and market. We're also giving some answers to popular VR questions like "Should I be using VR?" and "How can I incorporate it into my marketing plan?" Basically, research tells us that VR has wild market potential and isn't going away, so if you're not educated on the ways it can be harnessed for use in marketing efforts, you're behind the curve. 
Is Virtual Reality Here to Stay?
Or is it a fleeting fad?
This is, hands down, the most common commercial VR application question that we hear. Just like consumers, business owners don't want to waste their money investing in a new technology that's gonna be old news in five minutes. While there are still some people who believe that virtual reality isn't going to stick around in the public consciousness, the data tells a totally different story.
Many of the biggest technology companies around the globe are investing tons of cash into developing their commercial VR with new content and high-quality headsets including Facebook, Samsung, Google, and HTC. Survey says, "virtual reality is definitely here to stay."
How Much Potential Is in the VR Market?
If you include augmented reality applications in addition to traditional virtual reality, the entire VR industry has the potential to match the handheld mobile device market. Businesswire says the global VR industry is "expected to reach $212.06 billion by 2026 growing at a CAGR of 53.3% from 2017 to 2026." This number would include millions and millions of people on virtual reality consoles, headsets, and mobile devices.
Recommended reading: 360 Video and Virtual Reality Market Potential in 2019
Just take a look at the graph below: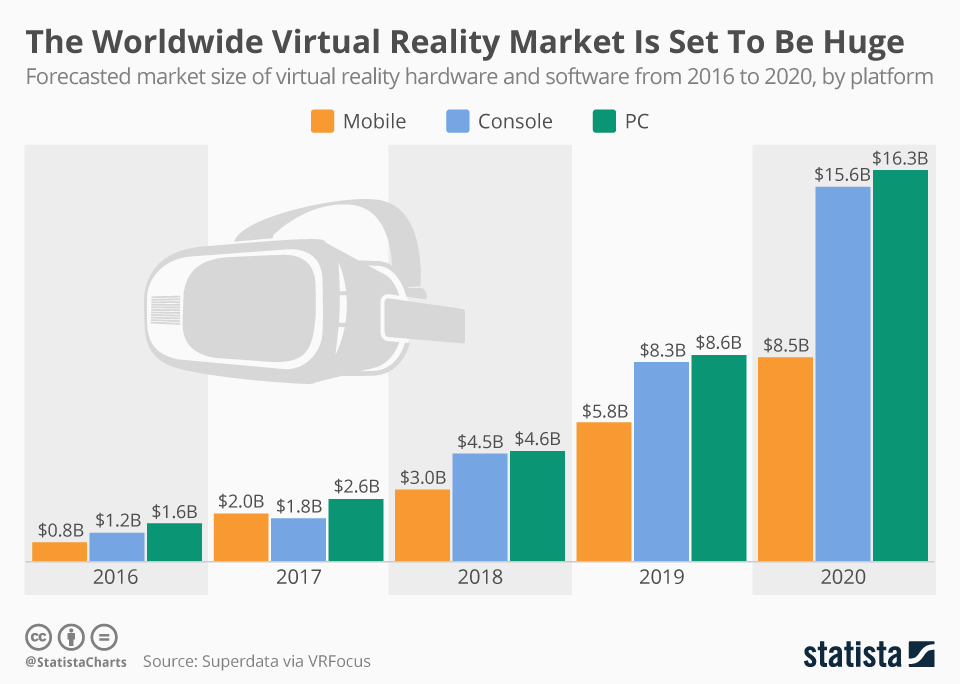 Should My Commercial VR Applications Use Live-Action or CGI?
If you're creating a marketing campaign for your business, you'll have to decide whether you want to create it using live-action or computer-generated images. The best way to get across the message of your marketing campaign is always by demonstrating the real-life experiences, products, or environment that your business is offering. CGI is very cool and useful for projects where you want to create a realistic environment that is contained in a limited space, but 360 video may be the right choice if you are taking your user on a zip line through the mountains or showcasing the lifestyle of a specific cultural group. Each project will have its own priorities which can guide these artistic choices. Your commercial VR applications should include immersive live action so that you can get your message across clearly and cleanly to the consumer.
Here's a great example of virtual reality experience that uses computer-generated images:
How Can I Decide What to Show in My VR Campaign?
The best way to decide what to show as part of your commercial marketing campaign is to think about what sets your business apart from your competitors. Are you a concert venue? Use virtual reality to show off the view and allow consumers to walk from seat to seat to see exactly what their ticket purchase will get them. Is there an activity that you offer at your business, like zip lining or rock climbing? Showcase that in live-action virtual or augmented reality. Any good commercial VR application should tell a story, engage the viewer, and give them more information about your brand.
Suggested blog: The Next VR Frontier: Shared VR Experiences
How Can I Choose the Right Company to Guide My Commercial VR Decisions?
The increased demand and capabilities of augmented and virtual reality mean that more and more production studios are popping up throughout the country. Whether you are a small business or a gigantic corporation, you need to find the studio that will properly guide your vision and create the perfect final product for you. Always examine what types of projects the studio has done before and ask them to walk you through a typical timeline before making the choice.
Use Virtual Reality as Part of Your Marketing Strategy
Whether you need help brainstorming ideas or ready to hit the ground running, TalkingTree Creative can bring all of your virtual reality ideas to life. With help from our production experts, you can elevate your message and convert your audience to fans by transforming your next event into a fully engaging, memorable experience. Get in touch with us today.