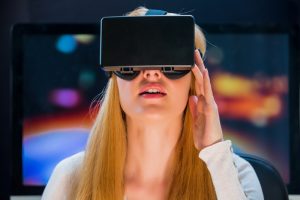 Virtual reality is everywhere, from video games to kiosks in the mall. Virtual reality is also starting to be used by companies to drive their customer experience. A whopping 30% of the Forbes Global 2000 consumer-facing companies will be using augmented reality and virtual reality marketing over the course of the next year. Whether you're a consumer-facing company or a B2B organization, there are countless ways that you can integrate virtual reality into your marketing.
Virtual Reality is Not One-Size-Fits-All
Virtual reality is an incredibly flexible tool that can be used throughout the world to create customizable experiences for consumers and employees. How can virtual reality be used by your business? Imagine being able to give a product demonstration to your potential customers without having the physical product present. Or consider the branding possibilities that exist within the world of a VR game. In this scenario, not only are you heightening brand awareness among your potential customer base, you are also delivering a highly engaging experience that they will never forget.
Just like other types of marketing, including business cards and posters, no product is one-size-fits-all. It's always a good idea to examine what other businesses are doing with the medium to get inspiration, but don't limit yourself based on what you have seen. TalkingTree Creative is happy to create a custom virtual reality marketing experience that meets your exact needs.
Virtual Reality Changes Our Minds
Virtual reality actually influences the way that our brain experiences events by influencing our neocortex, limbic system, and reptilian brain. Offering customers a virtual reality experience actually leverages these subconscious functions and helps to nudge them towards purchasing your product, bringing your audience closer to your brand, or even becoming ambassadors for your brand! The world of virtual reality can be used to radically transform the way that you advertise new products and even recruit new employees.
Use Virtual Reality as Part of Your Marketing Strategy
Ready to share your story? TalkingTree Creative is your premier guide to brand strategy, event planning, video production, virtual reality, and live entertainment. With help from our production experts, you can elevate your message and convert your audience to fans by transforming your next event into a fully engaging, memorable experience. We are located in the Baltimore-Washington Metro area but are ready to accommodate the needs of businesses and organizations anywhere in the world. Get in touch with us today at 240-252-1200 or 202-684-2225 and let's start a conversation. Find out what we're up to on Facebook, Twitter, Google+, and Pinterest.