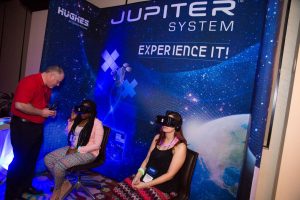 Virtual reality has quickly become one of the best ways for brands to market themselves to their customers. It is a highly engaging medium that can be used in ways limited only by your imagination. What does the future have in store for VR? One big new development that is starting to make waves is the introduction of shared VR experiences. Shared VR experiences have a huge potential in the world of marketing, as brands are beginning to find out.
What's So Different About Shared VR?
In a standard VR experience, the user interacts with the environment alone. This is highly engaging in its own right, but shared VR experiences take this one step further by introducing another user into the mix. With two or more users interacting in the same environment, it creates a highly immersive setup while introducing some element of unpredictability to the experience.
Why is Shared VR So Immersive?
The immersion of a shared VR experience can have applications beyond the marketing and commercial realms. Experts note that shared VR may become the next great revolution in communication. Psychologists have remarked that the human brain creates a much stronger emotional connection when looking at someone face-to-face than when they look at someone through a screen. Primarily, this is due to the difficulty in the ability to look at someone eye-to-eye through a screen. You can either look at the camera lens transmitting your face to the other user or look at the screen, but you can't do both at the same time. Although in shared VR experiences the user is only looking at an avatar of the other user, it still creates a stronger emotional attachment and is the closest we've come to replacing actual face-to-face conversations.
GET AMAZING SHARED VR EXPERIENCES WITH THE HELP OF TALKINGTREE CREATIVE!
Ready to share your story? TalkingTree Creative is your premier guide to brand strategy, event planning, video production, virtual reality, and live entertainment. With help from our production experts, you can elevate your message and convert your audience to fans by transforming your next event into a fully engaging, memorable experience. We are located in the Baltimore-Washington Metro area but are ready to accommodate the needs of businesses and organizations anywhere in the U.S. Get in touch with us today at 240-252-1200 or 202-684-2225 and let's start a conversation. Find out what we're up to on Facebook, Twitter, Google+, and Pinterest.