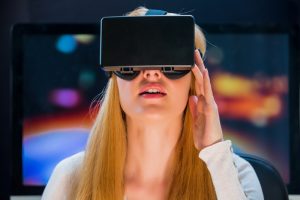 Virtual reality has taken the technology and marketing worlds by storm, and consumers are stepping up to the plate to engage with virtual reality experiences. No matter what size your business is, incorporating virtual reality into your marketing strategy can be intimidating. Here are some of the best ways to engage your customer base with virtual reality.
Virtual Reality: The Basics
Virtual reality is an immersive, simulated environment that makes the end user feel like they are actually there. The most common way that customers experience virtual reality is with a VR headset. Thanks to recent advances in VR technology and several less-expensive VR headsets on the market, more customers than ever have virtual reality in their hands.
Toms: Giving Back
The shoe company Toms is a successful example of how brands can incorporate virtual reality into their marketing to show off their philanthropy efforts and attract customers at the same time. Toms took users on a virtual reality journey to a small Peruvian village to see the children happily accept shoe donations and play with volunteers. Experiencing this story, even though it does not showcase a single product of the brand in detail, was very emotional, immersive, and effective for customers.
Mercedes: Try It On for Size
The latest SL model that Mercedes came out with premiered with a virtual reality drive down the Pacific Coast Highway in California. This cool virtual reality experience allowed customers to experience the car as if they were sitting in it—looking up through the sunroof, inspecting the interior of the car, and looking out at the beautiful water. By incorporating all of the car's features and beauty into the VR experience, customers were enticed and much more interested than if they had viewed a traditional car commercial.
Use Virtual Reality as Part of Your Marketing Strategy
Ready to share your story? TalkingTree Creative is your premier guide to brand strategy, event planning, video production, virtual reality, and live entertainment. With help from our production experts, you can elevate your message and convert your audience to fans by transforming your next event into a fully engaging, memorable experience. We are located in the Baltimore-Washington Metro area but are ready to accommodate the needs of businesses and organizations anywhere in the U.S. Get in touch with us today at 240-252-1200 or 202-684-2225 and let's start a conversation. Find out what we're up to on Facebook, Twitter, Google+, and Pinterest.