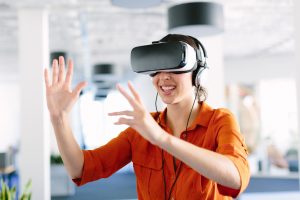 Augmented reality is nothing new, but augmented reality in the pockets of every iPhone 8 owner in the country certainly is! With Apple's newest iPhone model, they are promising to revolutionize the marketing world and make augmented reality a potent tool for your business. How can augmented reality work for you?
Augmented Reality 101
Virtual reality fabricates an entirely new world that customers view. Augmented reality uses the constraints of the "real world," but adds in virtual objects that appear as if they are real. The new augmented reality technology on the iPhone, for example, can detect a table in an image and place a virtual cup of coffee and newspaper there. The advanced camera can detect what is being shown and add in augmented reality elements. This update makes augmented reality technology much more accessible to consumers and brands.
How Can You Use Augmented Reality?
Depending on your brand and your budget, there are many different ways that you can incorporate augmented reality into your branding strategies. Are you a home remodeling company? Use it to show what new furniture or new kitchen cabinets would look like in the homeowner's space. A clothing boutique? Have customers try on your latest creations in augmented reality without ever stepping foot into a fitting room. Augmented reality can transform your relationship with your customers into something more positive and foster a greater deal of brand loyalty.
Do Your Homework
Since augmented reality is not inexpensive, it's important that you do your research in advance. What type of augmented reality products would attract more customers to your business? If you develop a cutting-edge and expensive product, but none of your target demographic is interested in it, the augmented reality experiment will be a bust for you. Keep in mind that using augmented reality just for the sake of using it is not a good marketing strategy, and it can actually alienate customers instead of attracting them.
Use Augmented Reality as Part of Your Marketing Strategy
Ready to share your story? TalkingTree Creative is your premier guide to brand strategy, event planning, video production, virtual reality, and live entertainment. With help from our production experts, you can elevate your message and convert your audience to fans by transforming your next event into a fully engaging, memorable experience. We are located in the Baltimore-Washington Metro area but are ready to accommodate the needs of businesses and organizations anywhere in the U.S. Get in touch with us today at 240-252-1200 or 202-684-2225 and let's start a conversation. Find out what we're up to on Facebook, Twitter, Google+, and Pinterest.