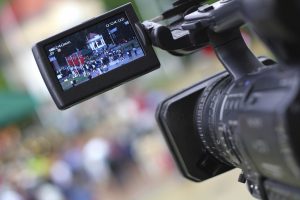 2017 was a banner year for online video as we saw more and more companies shift marketing resources to this new trend. Great video production has become a must-have as marketers have recognized the potential for online video to engage their target audiences more deeply than other branding mediums. Recently, Demo Duck published the results of a survey that aimed to take a closer look at how professionals are creating and using online video. These results are worth looking at in-depth and comparing to your current video marketing strategy. Here are some takeaways.
Short Videos are In
According to the study, over 70% of respondents stated that the average length of the videos they made clocked in at between one to three minutes in length. This demonstrates the power that a concise message can have on your target audience. You have a limited amount of time to capture the attention of your viewer, so making the most of this time is crucial to the success of your video production.
Videos Often Deliver Crucial Information
Survey respondents also placed a high value on videos that explain a product or service that they offer. The majority of them stated that they had created either an "Explainer" or a "Product" video, while a little less than half had made a "Tutorial/Support" video. However, the surveyors also note that testimonials are gaining traction in the video production realm. Consumers are indeed making informed decisions about the products they buy and services they utilize in part by looking at what other people are saying about them, so it's worth utilizing this type of video in your marketing strategy as well.
Diversity of Content is Important
We also see a majority of respondents reporting that they had created ten or more videos in 2017, and this fits right in with current marketing trends. Diversifying your content is critical to making sure your branding message gets out to different segments of your target audience, especially with targeting tools at your disposal that can pinpoint these segments exactly.
Online Promotion Vehicles – Website, Facebook, YouTube
These are the three big places where marketers promote their video productions, especially for B2B videos. Driving traffic to your website is important for generating sales, and Facebook and YouTube have some of the largest audiences on the entire web. Using a combination of the three should ensure that your videos are being seen and gives them a great chance to be successful.
GET ENGAGING VIDEO PRODUCTIONS WITH THE HELP OF TALKINGTREE CREATIVE!
Ready to share your story? TalkingTree Creative is your premier guide to brand strategy, event planning, video production, virtual reality, and live entertainment. With help from our production experts, you can elevate your message and convert your audience to fans by transforming your next event into a fully engaging, memorable experience. We are located in the Baltimore-Washington Metro area but are ready to accommodate the needs of businesses and organizations anywhere in the U.S. Get in touch with us today at 240-252-1200 or 202-684-2225 and let's start a conversation. Find out what we're up to on Facebook, Twitter, Google+, and Pinterest.