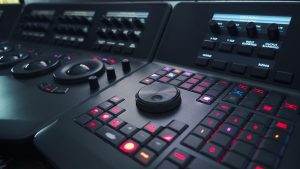 Color is a critical quality in any kind of video production, but it takes increased importance in the realm of corporate and marketing videos. Coloring can make a video appear more or less realistic, either of which may be conducive to certain goals of the production. Not only that, but color has a definitive impact on the emotional and psychological states aroused by the human mind upon viewing the video. In production work, we use a technique known as color grading to manipulate colors in a video to help it look its very best. What is color grading and why should your video production use it?
Color Grading = Color Correction
When producing a video, one of the key goals for the end product is to make it look as professional and realistic as possible. Colors need to be portrayed accurately to minimize any distractions the viewer may experience. The other important issue is to make the color tone consistent across all the clips. When whites don't appear "white," your viewer may not retain the message you are trying to deliver to them. Color grading works to minimize these distractions through various mechanisms. The most common of these mechanisms is known as "white balance," which sets out to make whites in a scene "true white" in accordance with the light source. While much of this work is done on set, any mistakes in color grading can be corrected during the post-production process.
Why Should Videos Use Color Grading?
As we mentioned above, color is a big factor in determining the impact of a video on the viewer. Certain colors can be used to elicit various reactions and emotions and should be considered an integral part of your messaging strategy. When you manipulate colors in this way, it can also be considered color enhancement. Consider, for example, a movie which has a scene set in sepia tones. Just by knowing that information, you probably inferred that that particular scene had to be set in the past, right? That particular scene, because of the color grading, is also much more likely to stick in the minds of the viewer since it stands out relative to the rest of the movie.
We can use the same techniques in marketing and corporate videos as well. While there are perhaps very few instances in this realm where sepia coloring is appropriate, we can use the techniques of color grading to amplify certain portions of your video to make them stick in the minds of your audience and elicit certain reactions. For example, a pool building company creating a marketing video may wish to use a lot of yellowish-green hues in their production to make the environment in the video appear hot, like a desert. It would also make the pool, by contrast, appear even more blue, which happens to be a cool color. This has a subconscious impact on the minds of their viewers, convincing them that a pool is the only solution to keep them cool over the summer!
GET ENGAGING VIDEO PRODUCTIONS WITH THE HELP OF TALKINGTREE CREATIVE!
Ready to share your story? TalkingTree Creative is your premier guide to brand strategy, event planning, video production, virtual reality, and live entertainment. With help from our production experts, you can elevate your message and convert your audience to fans by transforming your next event into a fully engaging, memorable experience. We are located in the Baltimore-Washington Metro area but are ready to accommodate the needs of businesses and organizations anywhere in the U.S. Get in touch with us today at 240-252-1200 or 202-684-2225 and let's start a conversation. Find out what we're up to on Facebook, Twitter, Google+, and Pinterest.