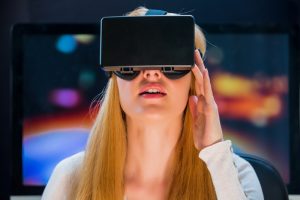 Virtual reality has had a great year as brands have realized its marketing potential and begun implementing the technology more creatively. While virtual reality has become more accessible, at the same time it is constantly evolving and being improved. We've discussed before how shared VR experiences are quickly becoming one of the hot new trends in virtual reality marketing. They are still in their infancy, but we anticipate that they will explode in the near future. What other improvements are we expecting for VR next year?
Continued Influence of AI
Artificial intelligence continues to evolve and influence VR and the marketing realm. We should see a further sophistication of virtual reality programs in a bid to gather more useful data for brands. AI will be implemented in these programs to affect individual experiences as they are occurring. Machine learning will grant the ability for the VR program to gather data in real-time to adapt the experience to the user. In turn, brands can use that data to help make important decisions on the direction of their marketing programs.
The Rebirth of Virtual Events
Virtual events have been attempted in the past, but were often crudely implemented because the technology was still in its infancy. Since then, VR technology has developed to a point where we can now accurately scale event experiences beyond the event site. This ability should only continue to evolve further as time goes on and we should see the real potential for virtual events in the coming year.
Increasing Popularity of 360 Domes
The big draw for shared VR experiences is the higher level of engagement brands can get out of their target audience. Having more than one person share in a VR environment creates a connection deeper than a solo VR experience can offer. While shared VR continues to grow, we should also see 360 domes become more popular. 360 domes use a 360-degree video which is projected onto the inner walls of a dome. While not as interactive as a virtual reality program, you can engage an entire room of people to spread your brand's marketing message more effectively.
USE VIRTUAL REALITY AS PART OF YOUR MARKETING STRATEGY
Ready to share your story? TalkingTree Creative is your premier guide to brand strategy, event planning, video production, virtual reality, and live entertainment. With help from our production experts, you can elevate your message and convert your audience to fans by transforming your next event into a fully engaging, memorable experience. We are located in the Baltimore-Washington Metro area but are ready to accommodate the needs of businesses and organizations anywhere in the U.S. Get in touch with us today at 240-252-1200 or 202-684-2225 and let's start a conversation. Find out what we're up to on Facebook, Twitter, Google+, and Pinterest.