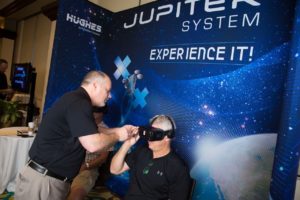 We're currently hard at work preparing our exhibit for the Experiential Marketing Expo to be held in May! An expo represents an enormous opportunity for your brand to demonstrate value to your target audience, so you need to have a plan in place to make the most out of your marketing budget at your next expo. There are two main ideas to keep in mind during the planning stages: defining your brand and making your booth engaging and interactive.
The Importance of Defining Your Brand
Consider some of the biggest brands in the world such as Apple and Google. What is it that makes these brands so iconic and well-known? They have a strong sense of self-identity and cater their marketing efforts accordingly. Just as you need to understand your target audience for your marketing strategy to be effective, you also need to understand what exactly your brand does and why it matters. Consistency is key here – you don't see big brands straying from their core identity, so you need to tailor your brand identity well and stick with it. Doing so will help your brand become recognizable at expos and gives a consistent message to your target audience.
Creating an Interactive, Engaging Booth
Customers and expo attendees nowadays expect brands to deliver quality, engaging experiences at events that will take hold of their attention and deliver that "WOW" factor that makes a brand and expo more memorable. There are many ways to create that experience in your booth, and your brand can experiment with different ideas, but here are a few that we have found most compelling for audiences:
Photo Booth – create an area where your audience can take selfies and use an event hashtag so they can tag their photos and share them on their social media accounts. It's a fun way to get your brand out there to the world beyond the expo!
Product Demos – it's one thing to tell your target audience about your latest products, but it's even better to show them these products! Product demos have been a staple at expos for some time because they're very effective at engaging audiences.
Creativity Station – giving your audience a place to make something of their own is another fantastic way of making your brand stick in their minds long after the expo has ended.
STAY ON TOP OF THE LATEST TRENDS IN THE EVENTS INDUSTRY WITH TALKINGTREE CREATIVE!
Ready to share your story? TalkingTree Creative is your premier guide to brand strategy, event planning, video production, virtual reality, and live entertainment. With help from our production experts, you can elevate your message and convert your audience to fans by transforming your next event into a fully engaging, memorable experience. We are located in the Baltimore-Washington Metro area, and we accommodate the needs of businesses and organizations world-wide! Get in touch with us today at 240-252-1200 or 202-684-2225 and let's start a conversation. Find out what we're up to on Facebook, Twitter, Google+, and Pinterest.