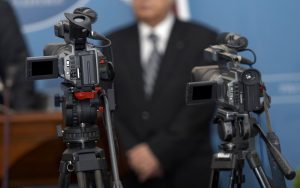 Brands that are looking to get their content out to their target audience have a lot of options to choose from. Though traditional mediums such as print and television are declining, there is a massive opportunity to use the power and ubiquity of the internet, and specifically, that of online video, to get your branding message out there. Recently, studio webcasts are proving to be effective at engaging audiences for companies in a variety of industries. Why are studio webcasts working for brands?
Laid-Back Environment
A studio environment is relaxed and provides the opportunity for your content to truly take center-stage. You can script your studio webcasts to cover all of your talking points. However, you can also allow for some flexibility by introducing a live studio audience to your webcast. Live call-ins and audience questions can make your studio webcast feel more natural and spontaneous, thus, in turn, making your content more engaging and dynamic.
Dynamic Engagement
Studio webcasts work at creating a high level of engagement with the target audience. They are, in effect, webinars that are produced like television shows. With live call-ins and audience questions, brands can discern additional insights into their audience and their priorities, which can lead to new opportunities for further engagement later.
Versatility
One of the best qualities about studio webcasts is how versatile they can be. You can use live-streaming platforms such as Facebook Live to get your message out there to as many people as possible. And once the live portion of the webcast is over, you can take the recording and repurpose it into other forms (YouTube videos, email marketing, static visuals such as infographics) to maximize the content's ROI.
High-Quality Production
Audiences today are looking for professionally produced content that stands out from the crowd. Live studio webcasts require a lot of attention to detail because there's only one opportunity to get the video right. When working with an experienced video production team like the one at TalkingTree Creative, you can have confidence that the technical side of the shoot will be done professionally with up-to-date equipment, set design, and shooting techniques.
GET ENGAGING VIDEO PRODUCTIONS WITH THE HELP OF TALKINGTREE CREATIVE!
Ready to share your story? TalkingTree Creative is your premier guide to brand strategy, event planning, video production, virtual reality, and live entertainment. With help from our production experts, you can elevate your message and convert your audience to fans by transforming your next event into a fully engaging, memorable experience. We are located in the Baltimore-Washington Metro area, and we accommodate the needs of businesses and organizations world-wide! Get in touch with us today at 240-252-1200 or 202-684-2225 and let's start a conversation. Find out what we're up to on Facebook, Twitter, Google+, and Pinterest.