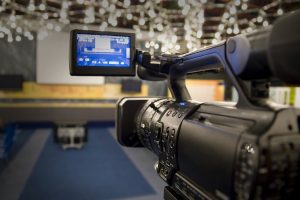 Events are great opportunities for brands to network, collaborate, and share valuable information with each other and their target audiences. However, you may be wondering if there's a quick, efficient way to share knowledge at events with your target audience in an engaging manner. TalkingTree Creative has a solution for you – custom studio programming at your events! Custom studio programs allow you to produce a wealth of relevant content for your audience in a short period of time, and our clients have found it to be a great addition to their video marketing plan. So what can you do with a custom studio at your next event?
Professional Quality
You need to design a set that supports both the purpose and branding of your event, then build it, oftentimes from scratch. But the studio build is only the physical framework for your programming.  To curate quality content, you must schedule on-screen talent for panel/interview appearances, staff your set with talented crew, beautifully light your subjects and set, film your content with clean audio levels, and edit and deliver it so that your content is ready for immediate upload and consumption.  TalkingTree Creative provides a turnkey service and has the skills needed for all phases of high-quality custom studio programming.
Functionality – Thought Leadership
One of the best ways to use custom studio programming at your events is to present your brand as a thought leader in your industry. In fact, recently, TalkingTree Creative did just that for GSK, where we produced multiple videos for their brand that featured industry experts providing useful insights for their target audience. With a custom studio and a thorough plan, we can produce multiple videos a day live from your conference. We turn these videos around in about 24 hours, making your insights and content cutting-edge. You can also promote your finished videos heavily on all of the usual marketing channels – on your company website, social media, YouTube, email marketing, and much more.
GET ENGAGING VIDEO PRODUCTIONS WITH THE HELP OF TALKINGTREE CREATIVE!
Ready to share your story? TalkingTree Creative is your premier guide to brand strategy, event planning, video production, virtual reality, and live entertainment. With help from our production experts, you can elevate your message and convert your audience into fans by transforming your next event into a fully engaging, memorable experience. We are located in the Baltimore-Washington Metro area, and we accommodate the needs of businesses and organizations world-wide! Get in touch with us today at 240-252-1200 or 202-684-2225 and let's start a conversation. Find out what we're up to on Facebook, Twitter, Google+, and Pinterest.