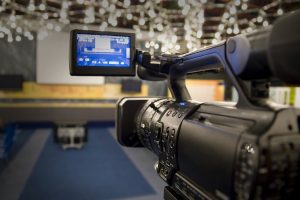 Video has become one of the most dominant mediums people use to consume content in the last few years. Just check how many videos pop up on your Newsfeed the next time you log into Facebook – it seems that video is everywhere on the web. This represents a perfect opportunity for businesses to get their message out there. Professional corporate video production is crucial to get the most out of your marketing efforts, and it will only grow as time goes on. Here's what the future of corporate video production will look like.
Ever-Increasing Demand
We anticipate that as technology proliferates and accelerates in development, video will become more and more accessible to the end user. This is great news for businesses – it means there will be a larger potential audience hungry for quality, well-produced content. From mobile phones to social media outlets and websites catered to the video format, we should see companies that embrace the video format will be more successful than those who neglect it.
Specialization Will Become the Key
The days of one-size-fits-all video production will soon be over, if they are not already. Production companies such as TalkingTree Creative are going beyond the strictly technical aspects of video production and adding unique skills, perspectives, experiences, and ideas to the process in order to create something truly unique and valuable to the client. The questions surrounding how to create an effective video have evolved – nowadays, these questions involve asking how a video can solve a business problem you are having and how to connect on a deep level with your customers, employees, and stakeholders. A specialized approach helps to answer these questions, and this will become ever more critical as the years go on.
Emphasis on Reality and Unstaged Video
Almost all marketing videos made today are staged to some degree, including testimonial videos. And that's fine – audiences and content producers understand this. But the future of corporate video production will bring about genuinely unstaged video which serves a marketing purpose. Experiential video can come from potentially anywhere, and as technology develops in the direction of full transparency businesses will have to adapt.
EVENT AND VIDEO PRODUCTION FROM TALKINGTREE CREATIVE
Ready to share your story? TalkingTree Creative is your premier guide to brand strategy, event planning, video production, and live entertainment. With help from our production experts, you can elevate your message and convert your audience to fans by transforming your next event into a fully engaging, memorable experience. We are located in the Baltimore-Washington Metro area, but are ready to accommodate the needs of businesses and organizations anywhere in the U.S. Get in touch with us today at 240-252-1200 or 202-684-2225 and let's start a conversation. Find out what we're up to on Facebook, Twitter, Google+, and Pinterest.