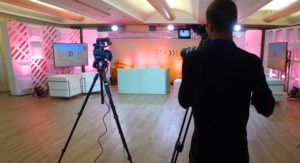 Nothing quite beats the feeling of seeing all of your planning and hard work pay off in the form of a freshly completed video production. Once all of the post-production work is done and you have the final product in your hands, it's time to put that content to use in your marketing efforts. You need to have an effective strategy in place to get your video in front of your target audience – and online video marketing is very different from other forms such as written content. So where exactly should you promote your new video? Here are a few strategies to think about.
Social Media Channels
Social media sites have quickly become the number one place people consume and share content on the internet. Most online marketing strategies will begin with social, but it is even more important for video marketing – particularly because of the drive towards more visual forms of content consumption. Facebook's algorithms favor video content more than text-based in both organic and paid posts, and YouTube is one of the more dominant platforms on the web today, with viewers consuming an estimated 1 billion hours of video per day!
Website
Your content is representative of your brand, so your own website is a great place to feature your fresh new video content. Consider placing the video on your front page to greet your visitors, or creating a new blog post that features the video and perhaps goes a little more in-depth with your content. Some brands will even use their new video as a banner that plays in the background of the front page – this is very visually appealing and can drive interest in your brand.
Email Marketing
Don't neglect the power of email when it comes to marketing your brand – people check their email about fifteen times every day on average. It's one sure way to reach your existing customers and clients and get them to engage even further with your brand. Feature your video in an email blast to your contact base – if even a few of them forward it to their friends or colleagues, it could make the campaign worth it!
GET ENGAGING VIDEO PRODUCTIONS WITH THE HELP OF TALKINGTREE CREATIVE!
Ready to share your story? TalkingTree Creative is your premier guide to brand strategy, event planning, video production, virtual reality, and live entertainment. With help from our production experts, you can elevate your message and convert your audience into fans by transforming your next event into a fully engaging, memorable experience. We are located in the Baltimore-Washington Metro area, and we accommodate the needs of businesses and organizations world-wide! Get in touch with us today at 240-252-1200 or 202-684-2225 and let's start a conversation. Find out what we're up to on Facebook, Twitter, Google+, and Pinterest.