So you produced a corporate video. All of the post-production work is done, you have the final product in your hands, and you're ready to put your company's name out there among potential clients and share the good work that you do with the world. Good for you! Now what?
When it comes to branded video, the production process is really only a fraction of the job. You've put so much work into your video content, but if you want to see real ROI, you've got to put effort into a marketing strategy as well. So where exactly should you promote your new video? In this post, we're going to focus on some great strategies for marketing your corporate video online.
Bottom Line
We're talking about video marketing strategies and where to promote your video online so it gets in front of your target audience. The big three in this post are optimizing your video, posting on the social media channels that are popular among your target demographic, and embedding the video on your site.
Market your video on Social Media
Social media sites have quickly become the number one place people consume and share content on the internet. Most online marketing strategies will begin with social, but it is even more important for corporate video marketing – particularly because of the drive towards more visual forms of content consumption. Facebook's algorithms favor video content more than text-based in both organic and paid posts, and YouTube is one of the more dominant platforms on the web today, with viewers consuming an estimated 1 billion hours of video per day!
Twitter; Instagram
On Twitter or Instagram, using hashtags does a lot to increase your reach, especially if your video concerns a particularly relevant or trending topic. Include the length of your video in the Tweet so viewers know what they're getting into beforehand. Emotion is also a great way to draw people in. Think, "Want a good laugh? Check out this video, only 30 seconds!"
LinkedIn
If you're in the B2B world, LinkedIn is a great place to market your corporate videos. After 2018 showed a 17% rise in video use on the site from the previous year, the professional-centered platform is seeing a lot more activity and interest from marketers.
TikTok
What is basically Vine reinvented, TikTok is a Gen-Z phenomenon. The 15-second video platform has lived in the global top 4 apps on Google and IOS since June 2018, and boasts 500 million active monthly users. Side note, that's more monthly activity than Pinterest and Twitter!  So if you're targeting the 16-24 age group, get on Tik Tok and either post original content or utilize influence.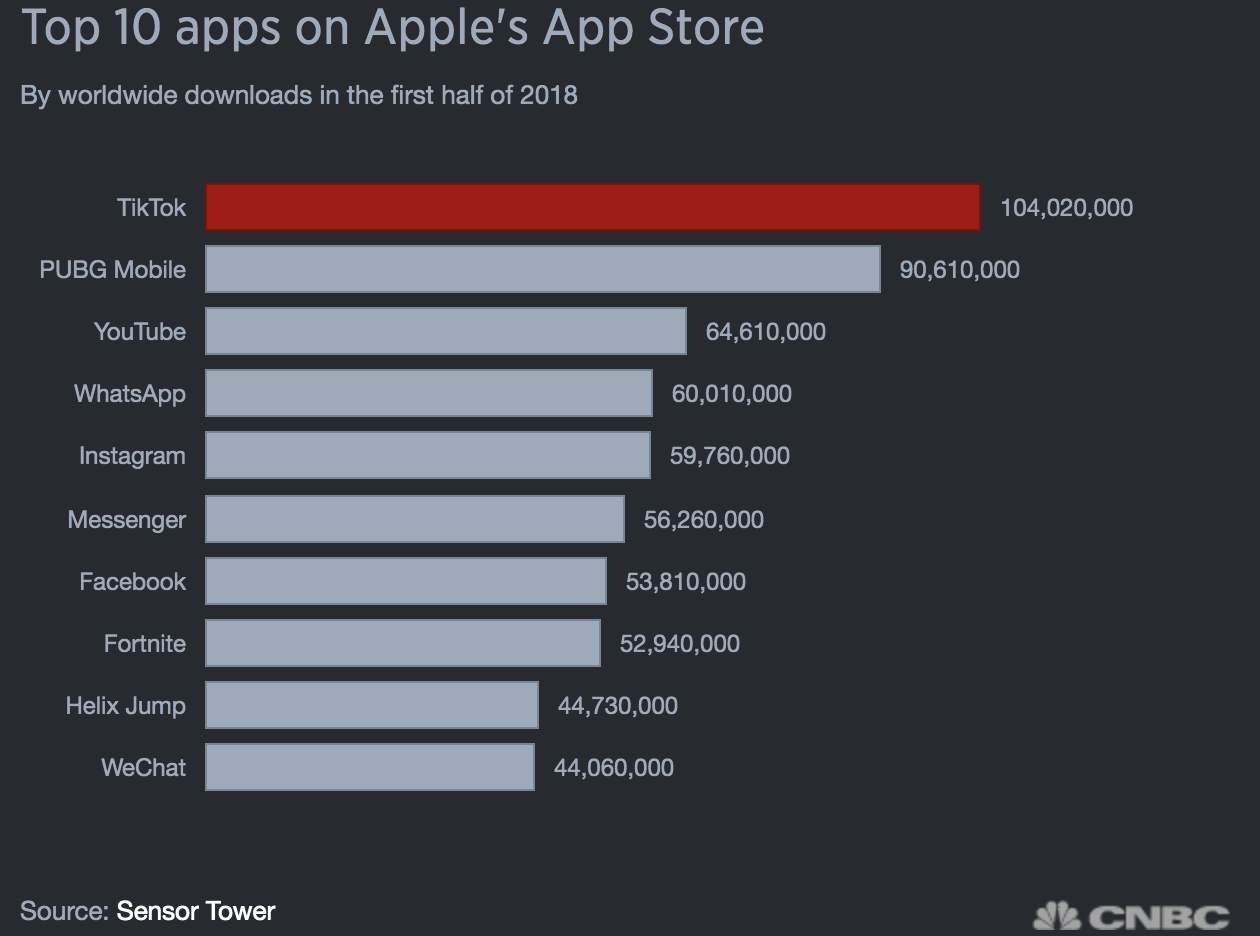 CNBC/Sensor Tower

Facebook Live
Facebook attracts 500 million unique viewers daily, and you already knew that, but Facebook Live provides live video capabilities to anyone with a smartphone and internet connection. This is special because it's live engagement offered on a platform that's already in the pockets of consumers – thus eliminating the cost to live stream to an audience! If you're someone who broadcasts live often, this is a super big deal. No matter what your budget is, live video is within reach of your event and should be a critical part of engaging your audience. Some of the benefits of using Facebook Live include:
Incredible Engagement

: According to statistics provided by Facebook, the live-streaming format has high engagement rates. Viewers spend more than three times more time and comment ten times more when the video is live.

Attendance Growth

: It is estimated that 30% of people who watch a live stream of an event end up attending that same event the next year. Think of the potential growth that could mean for your event!

Cost-Effective

: The reputation of live video suffers from the misconception of being too expensive, but Facebook Live makes it easy for anyone to see a positive return on investment from this technology.
Embed on your Website
This may seem like a no-brainer, but you should be embedding the video on every page of your website where it makes sense to do so. This helps you spread the message of your video to more viewers. It's also keeping the content of the video fresh in the minds of viewers. Even if they don't click the video again, just seeing the thumbnail a few times reinforces the information.
Your content is representative of your brand, so your own website is a great place to feature your fresh new video content. Consider placing the video on your front page to greet your visitors, or creating a new blog post that features the video and perhaps goes a little more in-depth with your content. Some brands will even use their new video as a banner that plays in the background of the front page – this is very visually appealing and can drive interest in your brand.
Email Marketing
Don't neglect the power of email when it comes to marketing your brand – people check their email about fifteen times every day on average.  Your current customers are already invested in your company's success, so it's always nice to share new updates or announcements with this core base. It's one sure way to reach your existing customers and clients and get them to engage even further with your brand. Feature your video in an email blast to your contact base – if even a few of them forward it to their friends or colleagues, it could make the campaign worth it!
Optimize your branded video for SEO
Search engine optimization, in a nutshell, is a collection of techniques and practices used to make your corporate video rank highly for certain keywords on Google. This is essential – optimizing your video for search can help build traffic and put it before the eyes of those looking for information which you can provide. So make sure your tags are targeted to the specific audience you want to reach, add a link to your blog or website at the top of the description, and add closed captioning to your video to give Google's algorithms more relevant information to crawl.
Want some help marketing your corporate video?
Whether you want to produce a thirty-second promotional video for Instagram or you've got some thought-leadership content you've been dying to bring to YouTube, we can support you from creation to distribution. Get in touch with us today about your next video project!