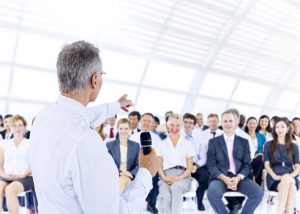 With the new year upon us, companies are putting the final touches on their new products which they will be releasing in the near future. Whenever a company announces a new product, they don't just ship the products to retail stores. They look to event planners to help them develop and market a product launch event that helps them formally tell an important group of people about the product. While developing a new product can be challenging, that doesn't diminish the challenge of plotting out the product launch event for it! If you've landed a big product launch event but are unsure how to proceed, here are some tips to help you get started.
Timing is Everything
There are times of the year where launching a new product is not such a great idea. Take a look at the industry to see if there are any trends with similar companies and their product launch event schedules. This is especially true if you're planning an event for a global company – summertime, for example, may not be a great time since most people in Europe tend to be on extended vacations at this time.
Finding a Purpose
The reason why companies hold a product launch event is not simply to gain exposure. It is, rather, to effectively reach its target audience and turn them into paying customers for the product. Keeping this mind while designing and planning out the event is critical to ensuring its impact and success.
Location
The location of a product launch event can tell an audience a lot about that company. Try to incorporate a venue befitting the company you are planning for. If it is a big company launching a upscale product, having the launch in a large, upscale ballroom makes a lot of sense. Consider too having the event at a trade show, as the company's target audience is already likely to be there.
The Experience
Successful product launch events have always been more about creating something memorable to the audience rather than the location or people attending. Think carefully about the ways you can make this event one to remember for the audience. Remember that consumers are bombarded by product messaging every day, so you'll need something that really stands out from the pack to succeed.
EVENT PRODUCTION FROM TALKINGTREE CREATIVE
Ready to share your story? TalkingTree Creative is your premier guide to brand strategy, event planning, video production, and live entertainment. With help from our production experts you can elevate your message and convert your audience to fans by transforming your next event into a fully engaging, memorable experience. We are located in the Baltimore-Washington Metro area, but are ready to accommodate the needs of businesses and organizations anywhere in the U.S. Get in touch with us today at 240-252-1200 or 202-684-2225, and let's start a conversation. Find out what we're up to on Facebook, Twitter, Google+, and Pinterest.