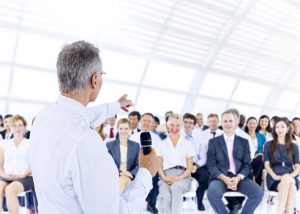 A good keynote speech is like the first paragraph of a novel–it sets the overall tone and context for your entire event. If your keynote speaker fails to capture the imaginations of your audience, they will quickly lose interest and seek entertainment from somewhere else. Here are a few things you should consider when choosing a keynote speaker for your next event.
What Can a Keynote Speaker Accomplish?
Humans are social creatures, so while we sometimes get information from books and websites, the sense of community that a speaker provides is something that simply can't be achieved anywhere else. A keynote speaker is your audience's "tribal leader", imbued with the unique ability to prompt them into action. And while even the best keynote speaker won't be able to fix glaring organizational problems within just 45 minutes, they can deliver new ideas and inspiration to get the cogs moving again. A truly great keynote speaker has your audience anticipating whatever your event has planned next.
Types of Keynote Speakers
There is more than one type of keynote speaker, and which one is best for your event will vary greatly depending on the kind of audience you're catering to. Industry "gurus" for example, can use their expertise to provide confidence in a new idea or technology. "Advocates" on the other hand, are keynote speakers that focus on offering motivation rather than authoritative knowledge. Regardless of which kind you select, it's important to work closely with your keynote speaker in order to shape a speech that is both memorable and aligns with your vision.
Finding The Right Person
If you've attended many events, you've no doubt experienced your share of 'lame' keynote speeches and speakers. You can avoid a disappointing keynote speaker by performing ample research on your speaker's background and experience. And don't just focus on the basics. Consider things like personality, entertainment and engagement value. It's also important to make sure that your keynote speaker has a good understanding of your own goals. The most expensive, sought-after speakers are not necessarily the perfect fit for what you're trying to accomplish. At the end of the day, the most critical thing is finding someone who won't make your audience feel as though they've wasted time watching your event's keynote speech.
Event Production from TalkingTree Creative
Ready to share your story? TalkingTree Creative is your premier guide to brand strategy, event planning, video production, and live entertainment. With help from our production experts you can elevate your message and convert your audience to fans by transforming your next event into a fully engaging, memorable experience. We are located in the Baltimore-Washington Metro area, but are ready to accommodate the needs of businesses and organizations anywhere in the U.S. Get in touch with us today at 240-252-1200 or 202-684-2225, and let's start a conversation. Find out what we're up to on Facebook, Twitter, Google+, and Pinterest.