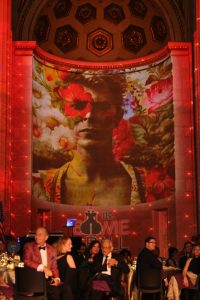 Marketing professionals know that one of the best ways to engage an audience at an event is to create a spectacle they'll never forget. Brands are always competing for attention and you need to stand out from the crowd if you want to capture your ideal customer's. In the past few years, a couple of new video projection techniques have really taken off because they create such a dynamic spectacle. Projection mapping and pixel mapping can both be used to make the audience at your next event say "Wow!". Though they are similar, there are a few differences between the two as well.
What is Pixel Mapping?
Pixel mapping is very similar to the way present-day TVs display their images. In an LCD or LED TV, millions of tiny dots, called pixels, change color to create the video that you watch. Pixel mapping takes this concept and applies it on a macro-level to a group of lighting fixtures. Combined with a software program, this group of fixtures can do just about anything, from spelling out letters to displaying video on a huge scale!
What is Projection Mapping?
Projection mapping is an incredibly dynamic technology that allows for images and videos to be projected on any surface regardless of its size or shape. To do this, we use specialized software and projectors to allow the images to fit naturally on any surface. You may have seen this technology in action before – many cities have had video projected onto famous landmarks or buildings. In addition, the famed Tupac Shakur "hologram" at Coachella a few years ago was really a more advanced application of projection mapping technology that used hidden projectors and invisible surfaces to create the illusion of a hologram.
TalkingTree Creative produced an immediate Wow factor for the Washington Ballet "Bowie Ball" fundraiser at the Andrew Mellon Auditorium in Washington, DC where we projection mapped iconic Bowie videos and imagery on the building architecture, including an animated space scene that covered the entire ceiling.
What Do These Technologies Have to Offer Your Brand?
Simply put, projection and pixel mapping are very dynamic ways to engage your audience at events. When done right, the wow-factor of this technology can't be understated! In addition, it is a great way to get the most out of your space – for projection mapping, you don't have to make any physical changes to your space to display video or images.
GET DYNAMIC PROJECTION AND PIXEL MAPPING PRODUCTIONS WITH THE HELP OF TALKINGTREE CREATIVE!
Ready to share your story? TalkingTree Creative is your premier guide to brand strategy, event planning, video production, virtual reality, and live entertainment. With help from our production experts, you can elevate your message and convert your audience into fans by transforming your next event into a fully engaging, memorable experience. We are located in the Baltimore-Washington Metro area, and we accommodate the needs of businesses and organizations world-wide! Get in touch with us today at 240-252-1200 or 202-684-2225 and let's start a conversation. Find out what we're up to on Facebook, Twitter, Google+, and Pinterest.