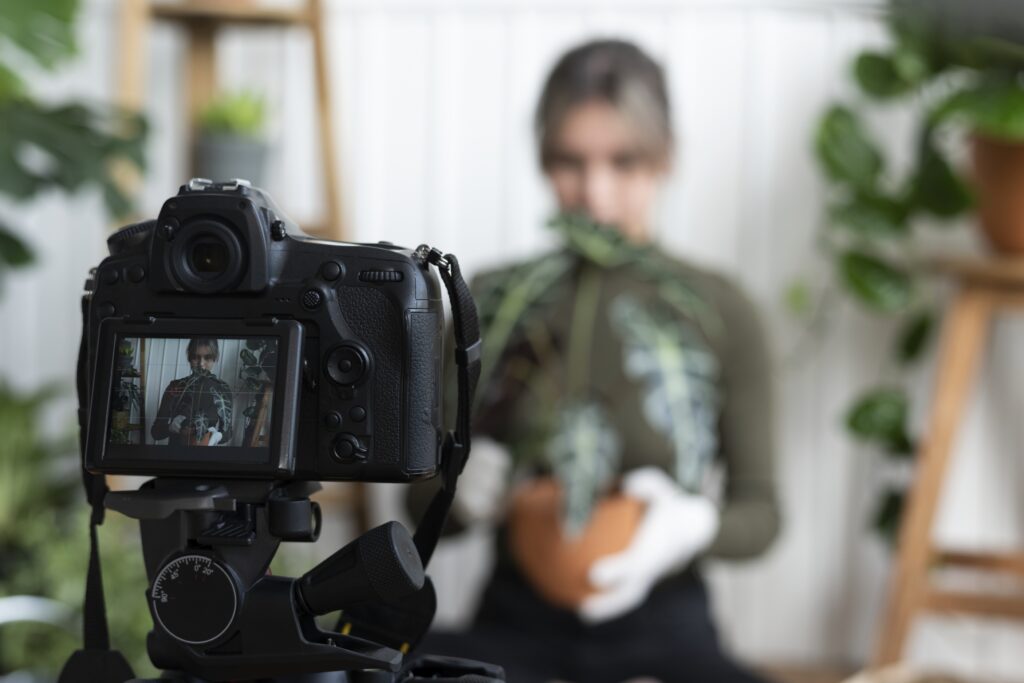 Storytelling is essential to successful marketing, and there's no medium better suited to storytelling than podcasting. Journalists have turned to podcasting to uncover often overlooked stories. Celebrities use the medium to set the record straight on common misconceptions about themselves. And everyday people share personal stories, researched tales, and more. And listeners can't get enough.
In this blog, we explore how a video podcast can help you achieve your marketing goals. Plus, we share an example from a video podcast series we produced for a client. We'll show you how their series of videos (each just a few minutes long) serves as a valuable marketing tool – and keeps viewers coming back for more. 
Traditionally, a podcast is an audio series on a specific topic. The series may tackle a unique theme in different seasons or share new stories in each episode–united by a particular theme. 
Whatever niche topic you might be interested in, we can guarantee there's a podcast on it, including true crime, history, reality television, serialized fiction, and more.
So what makes a video podcast unique? Simply put, these follow the same format as traditional podcasts, but they add a visual element. Why? Because video enhances the storytelling experience. 
If you have resources or content, you'd like your audience to engage with; you may want to include the element of video. 
Incorporating video into a podcast series helps creators: 
Why start a video podcast?
If you take a scroll through the Apple podcast library, you'll discover that there's a podcast for just about anything you can think of. Want to listen to cast members from The Office revisit the series? Check. Want to dive deep into the little-known stories of the Korean War? Check. Do you just want a five-minute rundown of the latest news? Check, check, check. 
Plus, countless brands and figureheads have gotten in on the podcasting craze too. Everyone from Conan O'Brien to Snooki of Jersey Shore and the United States Postal Service hosts their own audio show. 
But how successful are podcasts, really? Here are just a few statistics to show you how popular podcasts are.
125 million people listen to podcasts every month, according to

eMarketer

eMarketer also found that listenership has been on the rise, with a projected increase of 6.1% in 2022

Learning is one of the main reasons people tune in. Nearly 75% of people who listen to podcasts do so to learn new things (

Edison Research

)
Video podcasting enables you to get in on the massive success of this content format, expands your footprint digitally, and gives you a competitive edge over other creators. Since most podcasts don't include a visual element, incorporating video into your content enables you to stand out from the crowd.
The benefits of branded video podcasting
Additionally, you might be wondering how podcasting could be beneficial to your business specifically. As professionals, we deal with topics that can be challenging for our clients to understand. After all, that's why they come to us for assistance. Like any form of digital content, video podcasting helps us connect with clients. 
Creating a video podcast can help your brand:
Make challenging topics accessible to clients

Demonstrates our expertise to gain credibility

Engender trust with your viewer
View our infographic to learn more about the role digital content plays in the customer decision making process. 
To understand how video podcasting can benefit your business, look no further than the recent video series we produced for a team of family law attorneys. Their Marriage on the Rocks series explores the complicated and often entertaining world of family law. 
Through sharing their favorite stories of celebrity prenuptial agreements, the hosts demonstrate their expertise and offer valuable guidance about the do's and don'ts of prenups. Most importantly, they do it all while making viewers laugh. 
As a result, viewers learn that they're not only knowledgeable family law attorneys but also relatable people with a sense of humor. By giving viewers a glimpse at the personality behind the professional, clients are more likely to remember and trust them. 
Create an engaging video podcast
Ready to get started? Our team can help you develop a memorable video podcast series to support your business goals. Hint: creating a successful video podcast is much like any other form of content creation. If you're already creating content for social media or your blog, video podcasting is a simple next step. 
Get in touch to learn how we can help you educate, entertain and build trust with your audience.