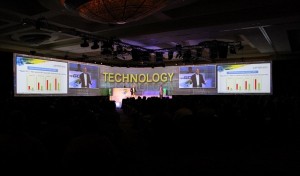 Launching new products is the lifeblood of many companies, especially those in the technology industry. Obviously, the most important factor in the success of a product is the product itself: its qualities, capabilities and overall ability to solve real-world problems with innovative features and benefits.
Nonetheless, if a product is not effectively presented or positioned in the marketplace, its chances are failure (regardless of its capabilities) are frighteningly high. Here are four key points you can use to guide your next new product launch to success:
1. Tailor the launch to your target buying audience.
The first priority essential to a successful new product launch is to create an event built around your target audience, and this means tailoring everything to that audience. Steve Jobs famously insisted that every product launch at Apple be built around the concept of what common person (school teacher, grandmother, etc.) would be using the product and why it would help them. If you sell technical products, this means thinking about your industry and end-user targets carefully.
For example, if you sell a radar system ideally applied to private aircraft and small boats, consider holding two distinct but connected launch events – one focused on each of these highly specific audiences.
2. Stage the launch process around your key audiences.
In addition to your buying audience, there are other audiences to consider. They include your internal employees; your sales team – and if applicable, your sales channel partners; your industry journalists and analysts; your existing customers and brand advocates; and your 'early adopter' community.
The power you can harness across these communities is immense, so make sure you choreograph launch experiences for each segment. Doing so will not only increase your early market impact, but it will also enable you to amplify one audience's response for the next group of stakeholders.
3. Showcase actual solutions through live scenarios.
Bringing the power of the first two points together, consider the theatrical impact of truly showcasing complete solutions with real-world scenarios. If you have a product that's used on boats, hold a launch on a boat and show the product in use. If you have a product that's used by the agriculture industry, extend your launch event from the trade show floor to an optional off-site tour of a farm actively using the beta release of your product and experiencing success.
You can also bring this kind of immersion into the expo center or conference environment through powerful experiential programming that combines audio, video, performance and props to engage the audience's senses.
4. Bring the story back to real life through emotions.
Remember the point of every product launch – it's to make the user's life easier. What does that mean? Well, in the immediate situation it means that the user is able to do a job faster or achieve a goal more easily. But beyond that, it always has an emotional impact.
The dairy farmer who invests in new robotic milking equipment is now able to spend more time with his or her kids as they prepare to go to college, knowing that the cows are being milked effectively. The pleasure boat owner who uses a new radar is able to go further out from shore and that means better fishing. The product engineer who applies a new electronic component is able to complete designs faster and build more exiting and innovative products, re-igniting the energy and excitement that fuels her work. There's always an emotional aspect of innovation, so make sure you showcase it.
As you can see, the success of a new product launch really comes down to the alignment of your product's business strategy and your ability to develop and execute creative events that engage your stakeholders with the product in every way.
That's why at TalkingTree Creative, as an cutting-edge event production company, we apply a process called Strategic Creative that integrates your strategy with our creative capabilities to produce truly unforgettable event experiences.
Breakthrough events with Strategic Creative
Begin your journey to corporate event success with a clearly defined methodology for event execution. One proven model is Strategic Creative, which was developed by the team at TalkingTree Creative, an award-winning Washington DC event production company. To learn more, please enjoy this three-article series about Strategic Creative:
> How Strategic Creative Leads to Successful Corporate Events [Article 1]
> The Layers of the Experience for Successful Corporate Events [Article 2]
> Showcasing the Power of Strategic Creative in Corporate Events [Article 3]
Learn more about corporate event production in Washington DC by contacting TalkingTree Creative today. Call us at 202-684-2225 or email Craig Weisbaum, President & CEO at craig@talkingtreecreative.com.
About TalkingTree Creative
Talking Tree Creative is an event production company that creates memorable experiences and lasting impressions on screen, on stage, and online. Headquartered in Washington D.C., TalkingTree Creative serves clients in the corporate, non-profit, association and government sectors as a leader in the event production field, infusing its work with elements of creativity, entertainment and engagement.
For more information, please visit talkingtreecreative.com. Follow TalkingTree Creative on Facebook, Twitter, Google+, and LinkedIn to stay up to date with our latest projects. Get a dose of visual inspiration by checking us out on YouTube and Pinterest as well.