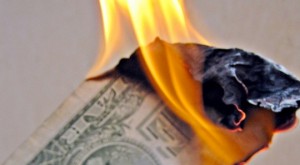 Corporate events are a critical component in your overall marketing strategy. They are also one of the most expensive investments you can make in marketing this year. Therefore, it's essential that you get the job done well, and within budget. The good news is that taking solid steps to manage your budget also leads to a better strategy. The result? A more successful event. Here are four mistakes you need to avoid on your next corporate event:
Mistake #1: Budgeting backwards.
Many corporate event planners often budget backwards, starting by selecting the most expensive venue they can find and burn 80-90% of their budget on the venue and catering. That leaves essentially nothing left for production or promotion. Reverse this strategy by starting with promotion (whether this is for an internal-facing event or an external-facing one), then plan and budget for production, and only then, narrow your venue options to those that fit within the budget that you've now built.
How it Wastes Money: Budgeting backwards virtually guarantees either an event that just plain flops (and results in an even smaller budget for next year's event, if you still hold one), or one that goes wildly over budget as you realize you didn't plan effectively in the first place.
Mistake #2: Trying to use internal marketers for everything.
Your company has a marketing department, right? One with designers and copywriters and social media managers… So, why not have them handle the planning, marketing and promotion for your event? Well, first off, they have those jobs so that they can do other things – things like running the company's own marketing. And beyond that, event marketing and communications is a specialized field that requires a great deal of expertise. Let your event production company lead the way and bring the right resources to the table. Should external and internal marketers be working from the same playbook? Yes, of course. Should you expect internal marketers to do this additional work for your event despite their existing workloads? No, of course not.
How it Wastes Money: Keeping internal people running ragged on something that is not their expertise ultimately means begging vendors (like external designers, printers, advertisers, sponsors, etc.) to make last-second fixes and rush deliverables through production. You can just watch the dollars flying away.
Mistake #3: Playing general contractor as the event is being built.
Planning and executing a major corporate event is not unlike building a house. You need experts and subcontractors to do all kinds of specialized tasks, from building lighting to running audio to capturing video to managing microphones and speaker audio. Are you ready to personally manage each of these parties and their technical requirements? Can you translate electrical load requirements from the venue's technical documentation so that the audio engineers can plan for proper equipment? Probably…not. That's okay. It's not your job. You need to partner with a corporate event production company and let them manage the technical integration necessary to the event.
How it Wastes Money: The average person who chooses do-it-yourself for a major home improvement (not a minor project) ends up spending 2-3 times more than they planned, and more than half of the time they later hire a general contractor to clean up the mess anyway. Stick to what you know, or expect an emergency.
Mistake #4: Directing the event yourself. Literally.
The big day has arrived. The venue team is putting final place settings at each table, the audio engineers have completed testing, and the video segments are timed to run flawlessly. Obviously, you need to stay close to your company's executives and VIPs to make sure they see that you have everything visibly in hand. Can you do this best by: (a) keeping a clean copy of the run-of-show in your folio and letting the event production team direct and stage manage the event, or (b) scribbling constant changes on your dog-eared event scripts as you run around to make sure that everything is working correctly at the last second?
In case you were wondering, the correct answer is…a. Remember, you are the customer, not the director. Let the event production company and its professionals take responsibility for the event's success. Of course, if you see something that appears out-of-order, let them know. But chances are, they're on it. That's their job – not only to be 'on it', but to do so unobtrusively so that your event is executed flawlessly.
How it Wastes Money: It may not waste money right at the moment, but micromanaging production during your event will waste time and resources. You're paying other people – true professionals – to run the event. Your nervous interference will only distract them (at best) and possibly derail the event (at worst). And ultimately, you're possibly risking your career as your bosses wonder why they authorized you to hire an event production company and now it looks to them like that investment was meaningless, since you're doing that job as well.
The Bottom Line in Corporate Event Planning
The bottom line is this: Successful corporate events begin with a clear strategy rooted in a realistic budget and an achievable plan. Bringing in a professional event production company is going to be a key factor in staying in budget and avoiding these money-wasting mistakes. Remember the old adage:
"There is never enough time to do it right the first time, but there is always enough time to do it over". Don't find yourself doing it over when you can just do it right the first time!"
Breakthrough Events with Strategic Creative
Begin your journey to corporate event success with a clearly defined methodology for event execution. One proven model is Strategic Creative, which was developed by the team at TalkingTree Creative, an award-winning Washington DC event production company. To learn more, please enjoy this three-article series about Strategic Creative:
> How Strategic Creative Leads to Successful Corporate Events [Article 1]
> The Layers of the Experience for Successful Corporate Events [Article 2]
> Showcasing the Power of Strategic Creative in Corporate Events [Article 3]
Learn more about corporate event production in Washington DC by contacting TalkingTree Creative today. Call us at 202-684-2225 or email Craig Weisbaum, President & CEO at craig@talkingtreecreative.com.
About TalkingTree Creative
Talking Tree Creative is an event production company that creates memorable experiences and lasting impressions on screen, on stage, and online. Headquartered in Washington D.C., TalkingTree Creative serves clients in the corporate, non-profit, association and government sectors as a leader in the event production field, infusing its work with elements of creativity, entertainment and engagement.
For more information, please visit talkingtreecreative.com. Follow TalkingTree Creative on Facebook, Twitter, Google+, and LinkedIn to stay up to date with our latest projects. Get a dose of visual inspiration by checking us out on YouTube and Pinterest as well.
Image Credit: imagesmoney @ Flickr (Creative Commons)