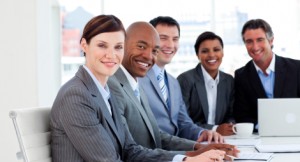 In every business, association or nonprofit organization, the most valuable and critical asset is your people. Capitalizing on the power and strength of your human resources can catapult your organization forward.
And yet, training and development has become far more challenging than ever before. Why? One major reason is due to the shifting nature of work. Today, workers are everywhere — not necessarily in the office from 9 to 5. They may be in the field, they may be on varying shifts, or they may be working remotely. And, thanks to digital technology, their expectations and attention spans have changed.
As a result, the days of building an employee training program on endless sets of half-day, in-person training sessions in a traditional classroom are long gone. Not only is it nearly impossible to get every employee you need to train in the same place for that long, but even if they came they'd likely lose interest…fast.
So, what can you do to engage with a more diversified, impatient, distributed and demanding workforce while still delivering effective training and development for your organization? One key lies in the power of video.
Here are three ways you can use video to enhance your corporate training and development program, and engage your workforce in growth:
1. Convert standard training programs into short-format, on-demand videos.
Instead of delivering that two-day workshop straight out, divide it into 15-minute min-modules. Learning is rapidly shifting from long-format to short-format to accommodate the changing needs of the workforce, and online learning demands short content to boot.
Wondering if this is really a trend? The top-ranked University of Illinois School of Business just announced the a new kind of online MBA program that replaces traditional classes with short 'building block' modules. Complete a series of modules and you finish a class. Complete a series of classes and you earn a degree. Short-format is, indeed, the future.
2. Use video to capture peer-to-peer instruction and ideas.
The most valuable training resource in your company is not the training team or the HR department – it's the employees themselves, teaching one another. The real role of your training and HR groups today is to facilitate employee development, not monopolize it.
Instead of video-taping one of your professional trainers delivering a two-hour safety course in 'sage-on-a-state' format, have that trainer interview front-line employees and have them present each key point in the presentation, on their own terms, using their own examples. Do this with 8 employees covering 10-15 minutes per segment, and you've got the most 'real-world' employee training content you could imagine.
3. Encourage real-time collaboration online, and record video for later use.
Another way to use video is to engage employees online through chat sessions, forums, videoconferencing and other channels. Record these sessions or workshops, then edit to create excerpted 'key points' summaries and post the videos.
You'll get far more engagement from employees who couldn't attend, and you can keep everyone on the same page in an easy-to-absorb format.
Remember, video is outstanding at capturing the spirit of people, so use it to let your people shine as they present, discuss, question and share ideas that can strengthen your organization for the future. Creating community while also enhancing communication — now that's a winning formula for training and development success!
Learn more about effective corporate video production strategies in Washington DC by contacting TalkingTree Creative today. Call us at 202-684-2225 or email Craig Weisbaum, President & CEO at craig@talkingtreecreative.com.
About TalkingTree Creative
TalkingTree Creative is a video and event production company that creates memorable experiences and lasting impressions on screen, on stage, and online. Headquartered in Washington D.C., TalkingTree Creative serves clients in the corporate, non-profit, association and government sectors as a leader in the event production field, infusing its work with elements of creativity, entertainment and engagement.
For more information, please visit talkingtreecreative.com. Follow TalkingTree Creative on Facebook, Google+, LinkedIn, and Twitter, to stay up to date with our latest projects. Get a dose of visual inspiration by checking us out on YouTube and Pinterest as well.