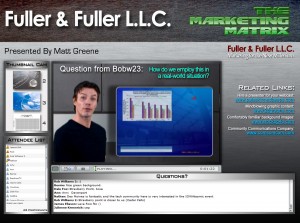 Does your business deliver products, services or solutions in physical locations such as corporate offices, retail facilities or customer service centers? Or do you support a workforce that is distributed across multiple locations or markets?
Either way, corporate television and digital signage can become powerful resources you use to engage and educate your audience. These two concepts use the same technology to deliver powerful communications in ways you may not have even considered.
Corporate television focuses on creating an online distribution network for television-style content that can be a mix of internally-produced and externally-sourced material. For example, when you visit an airline lounge and the television has both standard news (such as a CNBC business update) and custom content (such as a short vignette on vacation destinations you can visit on the airline), you're experiencing corporate television.
Digital signage wraps the television content in a dynamic presentation format that often includes computer-generated information such as current weather, company stock price, recent corporate news, and more.
Both approaches are proving uniquely powerful for businesses that have large networks of locations with high-volume foot traffic /or/ high-value audiences. These include:
– Banking
– Insurance
– Factories
– Shopping centers
– Hotels
– Corporate offices
– Healthcare/medical practices
– Retail
– Travel
– Entertainment
Here are three ways in which corporate television and digital signage can build your business:
1. Use it to keep customers engaged and entertained
No one likes to wait in lines, wait for appointments, wait for repairs or wait for…well, anything. Keep customers from being distracted or frustrated by delivering high-quality content for them through in-location video via your corporate TV network.
2. Use it to deliver added value or new opportunities
With your own private digital signage system, you can time content feeds to deliver offers (such as a QR code for a discount), update customers on new products or services, promote partner businesses, or up-sell new capabilities. This will strengthen your brand in the customer's mind and create new revenue opportunities for your business.
3. Use it to involve employees and stakeholders
One great application for this technology is in dynamic recruiting stations where prospective employees can learn about the company and view video content that encourages them to apply.
If the channel is delivered in both kiosk-style and desktop-based formats, employees can 'tune in' to receive new updates from management or stay informed on corporate updates. Using corporate television to keep all stakeholders informed can have a dramatic impact on morale and engagement across the board.
Clearly, corporate TV and digital signage present enormous opportunities to change the nature of communication and generate new value from your existing assets. Start by partnering with a professional firm with deep expertise in the field so you can create the right program and the best results today.
Learn more about effective corporate video production strategies in Washington DC by contacting TalkingTree Creative today. Call us at 202-684-2225 or email Craig Weisbaum, President & CEO at craig@talkingtreecreative.com.
About TalkingTree Creative
TalkingTree Creative is a video and event production company that creates memorable experiences and lasting impressions on screen, on stage, and online. Headquartered in Washington D.C., TalkingTree Creative serves clients in the corporate, non-profit, association and government sectors as a leader in the event production field, infusing its work with elements of creativity, entertainment and engagement.
For more information, please visit talkingtreecreative.com. Follow TalkingTree Creative on Facebook, Google+, LinkedIn, and Twitter, to stay up to date with our latest projects. Get a dose of visual inspiration by checking us out on YouTube and Pinterest as well.