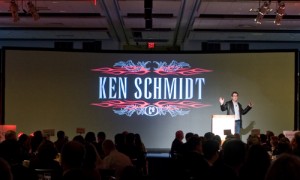 Planning a major corporate event is an incredibly complex and intricate responsibility. You need to select the theme, choose the venue, develop creative, market the event, manage registration and attendee services…and that's just the start.
One of the most important priorities is to book the right keynote speaker. The right keynote speaker can inspire your audience, connect with your brand message, uplift your event and leave everyone energized and engaged. But making that magic happen is hard to predict. What should you look for?
Here are some key pointers to help you find the best keynote speaker for your next corporate event:
1. Don't be fooled by the power of a prestige presenter.
For many organizations, snagging a retired world leader is the pinnacle of prestige. But speakers like this come with a cost – and not just a monetary one. In a recent speech to a business convention in Las Vegas, former Soviet leader Mikhail Gorbachev gave a lengthy and detailed lecture on global economic policy…and put the room to sleep (literally).
Remember, the highest-profile speakers don't talk about what you want to talk about. They talk about what they want to talk about. And you can't exactly pull them off the stage with a wink and a nod if the show runs over, either.
2. Examine what the speaker says, not just who they are.
A recognized speaker is a powerful resource to your event, and many organizations specifically aim to secure a recognized speaker name just to draw attendees. But if you focus on what the speaker says, you can find some outstanding, first-class presenters that will do a better job of connecting with your audience.
For example, Ken Schmidt is not a household name. But he is the former brand visionary for a household name called Harley-Davidson, and he is laser-focused on presenting about creating customer demand and building customer relationships. A speaker like this is one who can do a better job of connecting with your audience, and even integrating your message.
3. Don't rely on the speakers bureau alone.
The speaker's bureau has one job to do – book a speaker for your event. Yes, they want your event to be a success, but not to the point where having you choose a speaker they don't represent is an option. So, they'll push and squeeze to get a speaker on the books for your event even if that person's not the best fit. And this is true not just about topic, but about taste.
Some speakers swear. A lot. Others don't. At all. Some speakers are gone 30 seconds after the end of their speech. Others stay around if requested. You need a speaker that meets your needs, not just professionally but in terms of their personally as well. Don't let the bureau judge that alone.
4. Read the contract carefully. Very carefully.
Fortunately, most business speakers and presenters are not prima donnas, but some most certainly are. Contracts and terms can vary widely, and you should consider the contract itself when selecting the speaker. Perhaps one bureau's terms are more onerous than another's. This means that, before you get your heart set on the 'perfect' presenter, get copies of contracts and review them meticulously.
5. Selection is the beginning, not the end.
Choosing the keynote speaker is the start of the process. You need to stay engaged with your speaker and her or his agent throughout the pre-event period, with updates, ideas, the run-of-show, questions (or answers) and a pre-event conference or call to iron out details. The more you engage the speaker before your event, the better empowered the speaker will be to engage your audience at it.
Remember, the speaker is there not just to engage, but to entertain and enlighten. The better job you do in selecting and preparing for success, the more successful your corporate event will be – for you, and your audience.
Learn more about corporate event production in Washington DC by contacting TalkingTree Creative today. Call us at 202-684-2225 or email Craig Weisbaum, President & CEO at craig@talkingtreecreative.com.
About TalkingTree Creative
TalkingTree Creative is an event production company that creates memorable experiences and lasting impressions on screen, on stage, and online. Headquartered in Washington D.C., TalkingTree Creative serves clients in the corporate, non-profit, association and government sectors as a leader in the event production field, infusing its work with elements of creativity, entertainment and engagement.
For more information, please visit talkingtreecreative.com. Follow TalkingTree Creative on Facebook, Google+, LinkedIn, and Twitter, to stay up to date with our latest projects. Get a dose of visual inspiration by checking us out on YouTube and Pinterest as well.