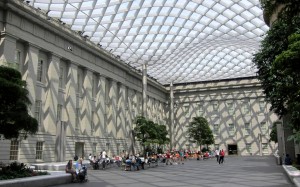 Effective corporate event production is an intricate and intense process, one that easily overwhelms many planners and organizers. Between technical requirements, production logistics, event promotion and the actual content of the program, there are hundreds (if not thousands) of issues and items to track and maintain.
As a result, even the most seasoned event planners are eager for a shortcut here and a "one less worry" there. One area in which this often takes place is with venue management.
In many cases, event planners equate venue management with venue selection. Put another way, once they select the venue for their event, they often cede responsibility for the other details to the venue operators themselves.
Unfortunately, this can quickly become problematic, for two reasons. First, it assumes that since you selected the venue for your event, that means that the venue is "perfect" just the way it is. After all, if the venue was less-than-ideal, you would have presumably selected another location to host your program. And second, it encourages the venue's own team to assume that their "standard" (i.e. "bare-bones") services and infrastructure are acceptable to meet your needs.
As a result, it is essential for savvy meeting and event planners to keep a close eye on venue-related issues throughout the process, from before the contract is signed right through the completion of the event itself. Here are three tips you can use to achieve venue management success for your next corporate event:
1. Negotiate and maintain a vendor-neutral venue agreement.
Just because you're selecting a given venue for your event, does not mean you should lock yourself into the venue's pre-existing partners, vendors, caterers and production services. In fact, doing so can quickly lead to disaster. You selected the venue because it is an outstanding location, but that does not mean that it is a perfect one. Make sure you separate the venue selection from the vendor selection, and keep your options open.
2. Take a third-party approach to audio and visual production.
The great irony about venue management is that the most interesting event venues are often those with the worst lighting, most inadequate audio and poorest projection capabilities. Running your event with inadequate or unprofessional A/V is one of the fastest ways to transmit the message that your event is not well managed. Don't let this happen to you. Bring in an outside event production company to evaluate acoustics, lighting needs, visual communication and video presentations.
3. Align the venue's packages and options with your needs, not the other way around.
A smart venue team will come to the table with a menu of preconfigured options and services ready for you to select from. It's smart business on their part, and it does make decisions easier when the options are already priced and packaged. In some cases, you can really benefit since the venue can reduce costs by offering standard offerings in a competitively priced bundle.
However, this only works to your advantage if you have clearly defined your requirements and specifications first. Taking a pre-packaged catering option doesn't make sense if the option precludes necessary food choices, or dictates serving methods or staffing levels that are unworkable for your event. Make sure to define your needs first, and then go from there.
Keeping these three tips in mind will go along way toward help you achieve success with both venue selection and venue management for your next corporate event.
Learn more about corporate event production in Washington DC by contacting TalkingTree Creative today. Call us at 202-684-2225 or email Craig Weisbaum, President & CEO at craig@talkingtreecreative.com.
About TalkingTree Creative
TalkingTree Creative is an event production company that creates memorable experiences and lasting impressions on screen, on stage, and online. Headquartered in Washington D.C., TalkingTree Creative serves clients in the corporate, non-profit, association and government sectors as a leader in the event production field, infusing its work with elements of creativity, entertainment and engagement.
For more information, please visit talkingtreecreative.com. Follow TalkingTree Creative on Facebook, Google+, LinkedIn, and Twitter, to stay up to date with our latest projects. Get a dose of visual inspiration by checking us out on YouTube and Pinterest as well.
Image Credit: ncindc (Flickr @ Creative Commons)