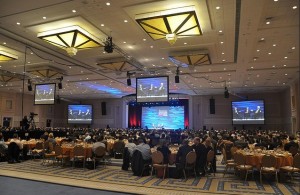 You've been planning and executing successful events for your company, association or nonprofit for years, and you feel like you've pretty much got the key priorities nailed down. Years of learning the hard way have taught you to be prepared for just about anything. Still, there are things that can go wrong – and it's easy to forget some of them or accidentally ignore others.
Here are four things even experienced event planners often miss:
1. Do you see the light? If not, add more.
Lighting is the bane of so many events, precisely because it is generally under-planned and often outright ignored. Remember that every aspect of the event requires different forms of lighting. Venue lighting may set a relaxed mood for attendees, but it may cast shadows across your presenters and make effective video capture or streaming impossible. When in doubt, plan more lighting…always.
2. Capacity is about more than just the main event.
You've planned your annual banquet and awards program for 1,000 people, and the main ballroom at the hotel you're holding it at has a capacity of 1,200. So — you're good, right? Wrong. The next question is: Can the pre-function space comfortably hold 1,000 people? Can the coatroom handle 1,000 coats? Can the elevators, escalators and staircases handle 1,000 pairs of feet? You need to check space, throughput and staging for all of the event, from beginning to end.
3. Can you hear me now?
It never fails to happen. There's always at least one presenter at every event who decides to ignore the microphone and just shout at the crowd. Invariably, he figures that as long as he can hear himself talk, so can everyone else. Don't let this happen to you, since it will guarantee that half of your audience just lost their connection to the event. If necessary, go as far as having a staff member stay at the edge of stage specifically to enforce (and adjust, as needed), microphone use with each speaker.
4. Don't turn off the water when you turn down the wine.
You want to alienate your attendees? Make sure that your venue partner shuts down all forms of foodservice when the pre-function bars are closed. That's right – even if someone just wants a glass of water. It happens so frequently that event planners often don't even realize what is taking place. Make sure to instruct your venue catering team that "no more booze" does not mean "no more anything". In a large, crowded space, it's downright inhumane to prevent your attendees from securing a glass of water when they need one.
In reality, we could probably list forty things that even experienced event planners can forget, but these four are a good start.
What they all have in common is details – paying attention to the details, and ensuring that you're always thinking of your attendees first. They are your audience; they are your customers. By putting them first, you'll be in great shape to ensure lasting event success.
Learn more about corporate event production in Washington DC by contacting TalkingTree Creative today. Call us at 202-684-2225 or email Craig Weisbaum, President & CEO at craig@talkingtreecreative.com.
About TalkingTree Creative
TalkingTree Creative is an event production company that creates memorable experiences and lasting impressions on screen, on stage, and online. Headquartered in Washington D.C., TalkingTree Creative serves clients in the corporate, non-profit, association and government sectors as a leader in the event production field, infusing its work with elements of creativity, entertainment and engagement.
For more information, please visit talkingtreecreative.com. Follow TalkingTree Creative on Facebook, Google+, LinkedIn, and Twitter, to stay up to date with our latest projects. Get a dose of visual inspiration by checking us out on YouTube and Pinterest as well.
Image Credit: meetingspodcast (Flickr @ Creative Commons)